Federal Way Children's Dentist
Establish a Dental Home for Your Family
At the Federal Way dental office of Drew Beaty, DDS, we are happy to welcome patients of all ages. Our skilled team makes visiting the dentist a treat for adults and children. We work hard to create an environment that truly accommodates both kids and their parents. Our team truly goes above and beyond to make every patient feel right at home – no matter what their age. Parents often struggle to keep up with their own oral health and hygiene appointments and take their kids to see a pediatric dentistry specialist. Visiting a family dentist can be a much more convenient option for busy families. Our team is happy to schedule a block of appointments for your whole family on the same day, so you don't ever need to make multiple trips. Call our office to find out more about our pediatric and family dentistry services or schedule appointments for yourself and your loved ones today. We look forward to seeing you soon.
Why Choose Drew Beaty, DDS Family and Cosmetic Dentistry for Children's Dentistry?
Sedation Dentistry for Easier Care
Family Appointments for More Convenient Visits
Patient and Caring Dentists and Team Members
Your Child's First Dental Appointment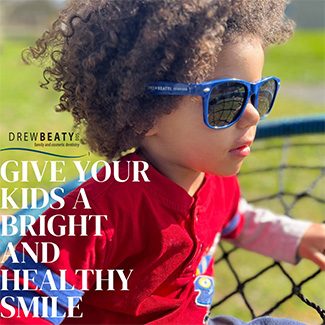 Kids need to visit us every six months just like adults. The first time your little ones visit us should be around their first birthday. These early appointments are pain- and stress-free. We simply make sure there are no signs of concern with your child's dental development and partner with you to help them keep their new teeth healthy. As your child gets a little older and can understand more of what's going on in the office, we'll take them on a tour of the practice. We want kids to enjoy visiting us and never feel scared of the sights and sounds in our office, so we will take the time to answer their questions and explain everything we're doing. In addition to examining their smiles for oral health concerns and cleaning their teeth, we will also walk your kids through proper at-home hygiene techniques.
Kid-Friendly Dental Services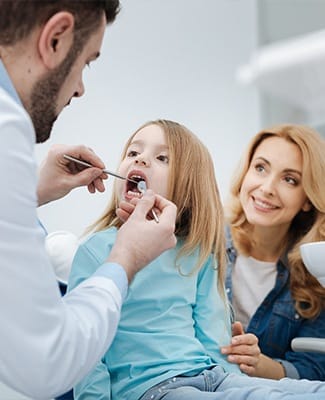 At every stage of dental development, it's important to receive targeted dentistry services to address specific needs. Kids are developing their teeth, but they're also learning to take care of their smiles. Our personalized dental care plan for your child will focus on treatments that help them succeed in achieving and maintaining their healthiest smiles. Some of the kid-friendly dental treatments we offer include:
Dental sealants – these clear sealants coat teeth, creating a barrier between healthy tooth enamel and damaging bacteria, plaque, and tartar. This makes it easier for your kids to keep their smiles clean.
Fluoride therapy – kids who struggle with chronic tooth decay or who do not receive adequate fluoride in their diets, may benefit from oral or topical fluoride therapies.
Mouthguards – young athletes should always wear sportsguards to protect their smiles during athletic events and practices.
Emergency care – we're here to help kids right away when they're in need of urgent dental care.