Dental Implants - Federal Way, WA
A Comprehensive Replacement to Rebuild Your Smile
If you're missing teeth, you may already be familiar with the inconveniences of dental bridges and dentures. To enjoy the security and benefits of a truly comprehensive tooth replacement, patients choose dental implants after tooth loss. Dental implants act as a prosthetic root for the replacement device (a crown, bridge, or denture) that is secured on top. Dr. Beaty provides dental implants for patients in Federal Way, WA, as well as Auburn, Seattle, Tacoma, Lakeland South, and all surrounding areas. Contact us today to get started on rebuilding your smile!
Why Choose Drew Beaty, DDS Family and Cosmetic Dentistry for Dental Implants?
All-Ceramic Materials for a Natural Appearance
Partners with Highly-Trained Specialists
Improved Comfort via Sedation Techniques
What Are Dental Implants?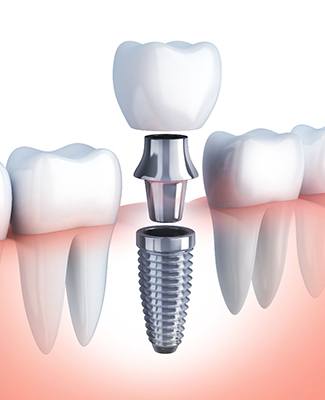 A dental implant consists of three basic parts: a titanium post, a metal attachment called an abutment, and a custom-made artificial tooth called a restoration on top. The implant post is placed in your jawbone, and then the abutment is placed on top to secure your restoration into your smile.
Dental implants are the only tooth loss solution to rebuild the entire structure of the tooth that extends beneath the gums. Because of this, they are able to look, feel, and function more like your natural teeth than any alternative treatment. The vast majority of dentists, including Dr. Beaty, believe that for most patients, dental implants are by far the best option for tooth replacement.
Benefits of Dental Implants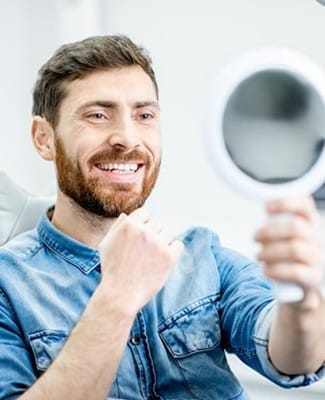 More than five million Americans currently have dental implants, and thousands more receive them each year. Why are they exploding in popularity? Due to their ability to reconstruct an entire tooth, there are several benefits of dental implants in Federal Way that other tooth replacement options cannot deliver. Read on to learn what they are!
Day-to-Day Benefits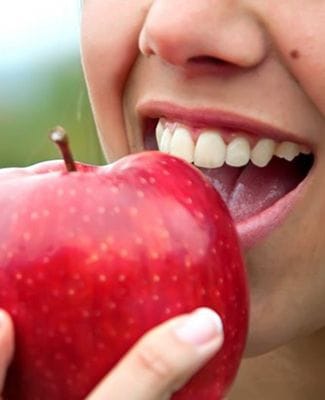 Eat whatever you want – Because dental implants replace a tooth's roots, they replenish the majority of the biting power you had before tooth loss. While denture wearers are often limited in terms of their diets, dental implants allow you to enjoy all of your favorite chewy, crunchy, and hearty foods with ease.
Drink your favorite hot beverages – Dentures often warp when exposed to heat, but implant-supported prosthetics should maintain their shape when you drink tea, coffee, or other hot beverages.
Smile confidently – Your implant restorations are custom-made to complement your facial features and mimic the teeth you used to have. They're made of high-quality, lifelike materials to ensure flawless results!
Enjoy a secure smile – Since your teeth are secured onto posts in your jawbone, you won't have to worry about them feeling loose or slipping out of place.
Health Benefits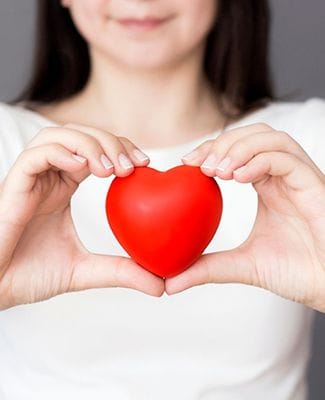 Jawbone preservation – After you lose a tooth, the part of the jawbone it once supported begins to deteriorate. Eventually, your face may take on a sunken, wrinkled appearance. Dental implants in Federal Way stimulate the jawbone, keeping your face looking young and vibrant.
No gum irritation – Your restorations shouldn't move around against your gums, so you won't have to worry about gum sores.
Preservation of remaining teeth – Traditionally, dental bridges and partial dentures require that some of your remaining teeth be permanently altered to hold the restoration in place. Dental implants can support themselves, allowing you to retain more of your natural tooth structure.
Overall health benefits – Studies show that people with incomplete smiles have a higher risk of developing certain health conditions, such as diabetes and heart disease. Dental implants function just like natural teeth. Therefore, they encourage better oral health, which promotes better overall health.
Long-Term Benefits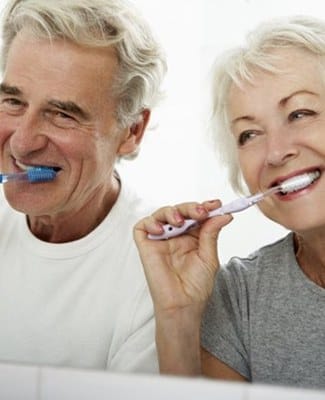 Cost-effective solution – Although dental implants initially cost more than bridges and dentures, they should last for decades, or even a lifetime. You'll save valuable money and time that you would have otherwise spent on repairing and replacing your teeth.
High success rate – Even after 10+ years, over 90% of dental implant recipients are still enjoying their new pearly whites.
Easy maintenance – With dental implants, you won't have to learn a whole new cleaning routine like with dentures. Instead, you can care for them much like natural teeth – through regular brushing, flossing, and checkups with your implant dentist in Federal Way.
The 4-Step Dental Implant Process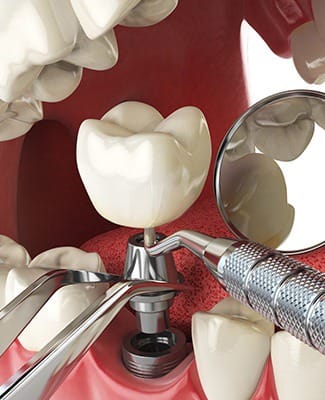 Dental implants are made of titanium, a material that has a special quality: its ability to fuse with bone. Once a dental implant has been surgically placed into your jawbone by one of our trusted specialists, a recovery period of four to six months is necessary for this fusion (known as "osseointegration") to take place. After osseointegration is complete, your dental implants are just another part of your body -- and they provide unsurpassed stability as a result.
Initial Dental Implant Consultation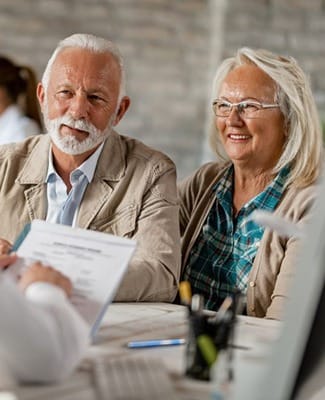 The first step to rebuilding your smile involves scheduling your consultation to ensure you're a candidate for dental implants. We'll perform a thorough examination to evaluate your oral health and discuss your medical history to ensure there are minimal risk factors for complications. We'll also need to review a CT scan of your oral structures to look for any hidden issues. Depending on the results of your examination, we might recommend additional procedures, like tooth extractions, periodontal therapy, or bone grafting. You'll need to be healed from any previous treatments before moving forward with your plan.
Dental Implant Surgery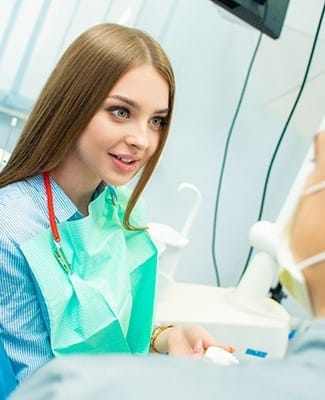 You'll need oral surgery to place a titanium post into your jawbone to serve as a new root. We partner with the best specialists in the Federal Way area to ensure you get the quality treatment you deserve. Sedation or anesthesia is used to make sure you are comfortable as your oral surgeon opens your gum tissue and drills a small hole into your bone to insert the post. Your gum tissue is stitched closed to begin the healing process.
Dental Implant Osseointegration & Abutment Placement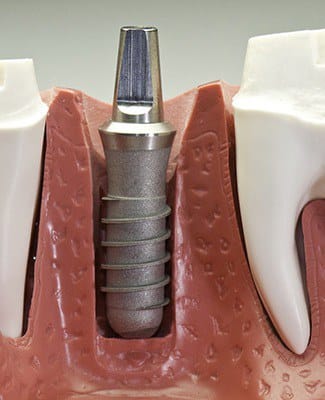 With the implant post acting as a root, it will stimulate bone growth. Over the next several weeks, your jaw will fuse to the post through osseointegration. This provides a stable foundation for your replacement tooth while also allowing the post to stay in place forever with the right aftercare, like maintaining your oral hygiene.
After your jawbone has healed, your implant dentist in Federal Way will need to connect an abutment to a post, which will require a minor procedure. We'll open your gum tissue to expose the head of the post to attach the special fixture. It will take about two weeks for your gum tissue to heal around the abutment. This creates a natural-looking gum line while also sealing out bacteria from the post.
Placement of Dental Implant Restorations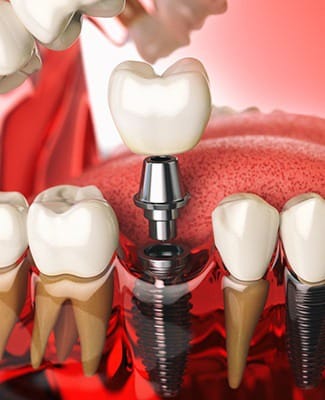 While you're recovering from your abutment procedure, the dental lab will be hard at work creating your restoration. It will be made of all-ceramic material to match the color, size, and shape of your natural tooth. After it has been crafted to meet your exact needs, it's attached to your abutment to complete your smile. Your restoration will look and feel natural, so no one will know it isn't your real tooth.
Who Dental Implants Can Help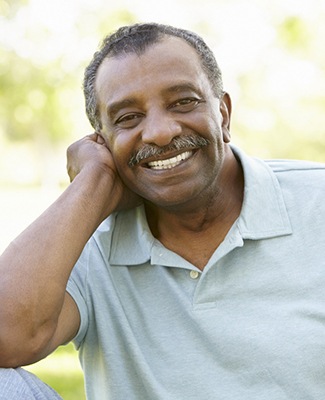 Most patients who are in good health and on the brink of tooth removal, or who have recently suffered the loss of one or more teeth, are well-suited for the procedure. Generally speaking, dental implants can provide a wonderful solution for patients with any degree of tooth loss. Whether you're missing one tooth, multiple teeth, or even your entire smile, dental implants can help, which is one of the reasons why they're so popular. Read on to see if dental implants are right for you.
Who Is a Good Candidate for Dental Implants?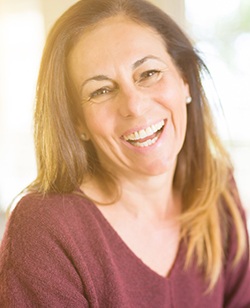 Almost any healthy adult can enjoy dental implants. Usually, you will need to have these three things to be considered a candidate for this amazing treatment:
Good overall health: Dental implants require a small procedure for their placement, which is why you must be well enough to undergo a minor surgery.
Great oral health: Common dental problems like tooth decay and gum disease can negatively impact the success of your implants, which is why they must be addressed before you can begin treatment.
Adequate jawbone density: Dental implants are placed in the jawbone to act as artificial tooth roots. It's vital that your jawbone is strong enough to support dental implants so they don't fail.
Even if it doesn't sound like dental implants are right for you, there are still ways for you to enjoy their many benefits. Dr. Beaty may recommend preliminary treatments like tooth extractions, gum disease therapy, or bone grafting. Once your mouth is healthy and back on track, we will be able to create your own custom treatment plan based on the number of teeth that you're missing.
Missing 1 Tooth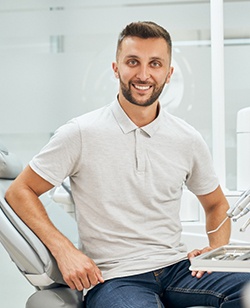 For a single missing tooth, an implant-supported crown fills the space and does not require the alteration of the teeth that surround the gap. A dental crown retained by a dental implant looks, feels, and functions just like your natural tooth. Our dental implant dentist in Federal Way will match your custom-made dental crown to the size, shape, and shade of the rest of your teeth so your replacement seamlessly blends into your smile.
Missing Multiple Teeth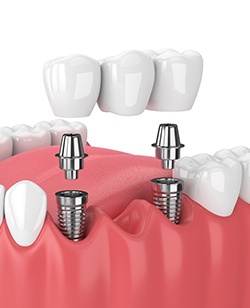 For multiple missing teeth, an implant-supported bridge or partial denture can fill in the gap. This restoration may be fixed or removable, depending on your needs and personal preference. Dental implants are especially beneficial in the case of multiple missing teeth, as they stabilize the jawbone which would otherwise be at a high risk of rapid degeneration. Plus, dental implants allow you to enjoy the benefits of a dental bridge without altering your surrounding healthy teeth.
Missing All Teeth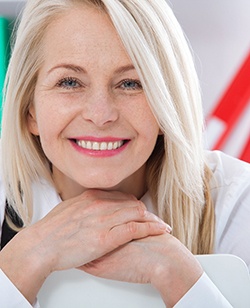 For an entire arch of missing teeth, a few strategically placed dental implants provide crucial stability for a complete denture. Sometimes, the implants can be restored with a full denture on the very same day as the placement. An implant denture keeps the jawbone healthier for longer and supports a well-balanced, nutritious diet – no more worrying about a denture that slips or slides when eating, speaking, and smiling.
Understanding the Cost of Dental Implants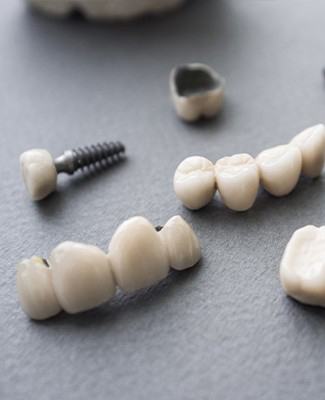 The cost of dental implants in Federal Way tends to be higher than other options, but it is certainly worth the investment for a stable, long-lasting, and health-promoting tooth replacement. To understand why they are more expensive, consider the fact that dental implants involve recreating every part of the lost tooth. However, this solution is a one-time expense that will not require as many replacements as a traditional denture or bridge. No matter the cost of your dental implant procedure, you are setting yourself up for an investment that can last for decades!
Preliminary Treatments & Dental Implant Surgery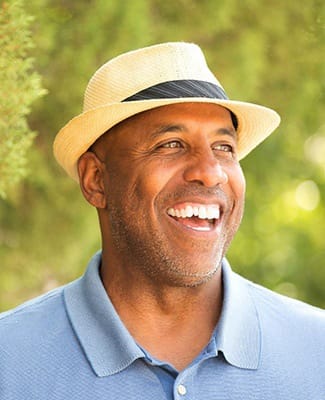 Some patients may need to undergo preliminary procedures – such as tooth extractions, bone grafting, gum disease therapy – before their mouth is ready to receive dental implants. Bone grafting is particularly common, as the jawbone weakens after prolonged tooth loss to the point that it cannot support implants yet. While these procedures build the foundation for your new smile, they'll also increase your overall cost of treatment.
Additionally, you'll have to see a separate implant dentist in Federal Way for your dental implant surgery. That procedure will incur its own cost, as will any sedation or anesthesia that you receive.
The Parts of Your Dental Implant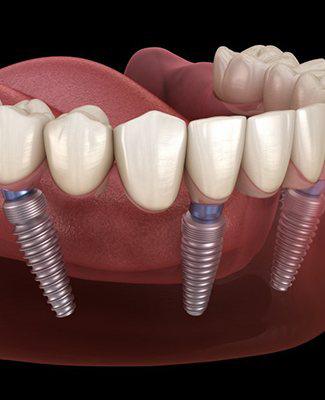 Typically, dental implants are made from either titanium or zirconia. The material your implants are made from, as well as the manufacturer we get them from, will impact your final price. Various materials and brands have their own pros and cons, which Dr. Beaty can discuss with you at your consultation.
Final Dental Implant Restoration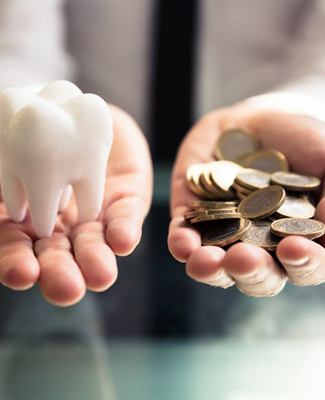 Dental implants are versatile enough to treat any degree of tooth loss. For example, a single implant post can be topped with a crown to fill a gap left behind by one missing tooth. A small number of strategically placed implant posts can support a dental bridge, a partial, or even a full denture. The type of restoration you're getting, and the materials it's made from, will influence the overall cost of your treatment.
Does My Dental Insurance Cover Dental Implants?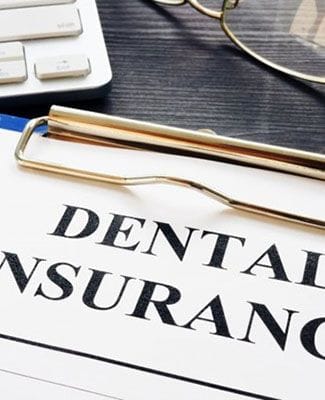 Most dental insurance plans do NOT cover dental implants in Federal Way. However, they might pay for some other aspect of the treatment, such as sedation or your final crown, bridge, or denture.
Each dental insurance policy is different, and our team will gladly help you navigate yours and even handle the paperwork. We're also in-network with many of the nation's leading insurance providers, including Delta Dental.
Making Dental Implants Affordable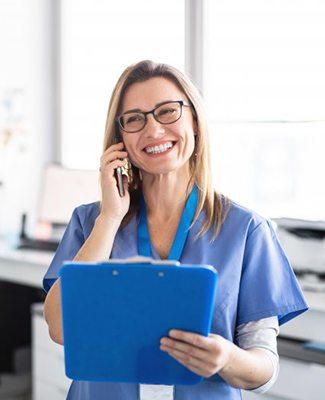 Our practice aims to make dental implants affordable for all patients, which is why we offer an in-house dental savings plan. For a flat yearly fee, you'll receive all of the preventive coverage of traditional insurance, plus some discounts on treatments that insurance doesn't normally cover. We can also help you apply for low-interest financing through CareCredit. That way, you can break up the cost of your implants into manageable monthly payments.
Advanced Dental Implant Procedures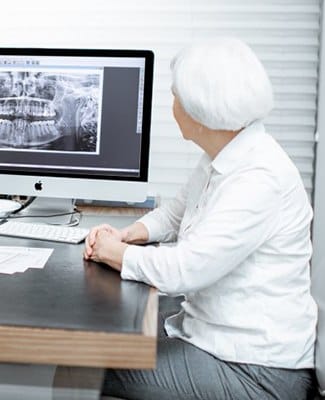 It's not always the case that a patient who wants dental implants is the perfect candidate for the procedure right away. In fact, many people who have been missing teeth for several years suffer from bone loss in the jaw, which could affect the successful integration of your implants. In these cases, Dr. Drew Beaty and our team will discuss our advanced dental implant preparatory procedures to make sure that we achieve amazing results.
Bone Grafting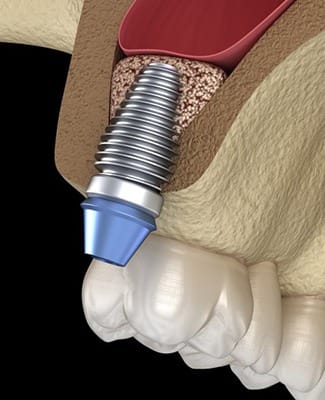 Dental implants in Federal Way boast an impressive 98 percent success rate, and that's primarily thanks to an important process that occurs after your implant surgery, called osseointegration. This occurs when the implants fuse with your jawbone to provide your restorations with an unwavering, strong foundation.
Our patients who come to us to get dental implants and have been missing teeth for several years often suffer from jawbone deterioration. This happens when the roots of your teeth, which once provided necessary stimulation and blood flow to the bone, are no longer there. The area begins dwindling because it's not being used. Unfortunately, this means that the bone won't be strong enough to support the implants and undergo osseointegration. In these situations, Dr. Beaty will likely recommend a bone graft in Federal Way. For this procedure, a small piece of bone is taken from a donor or another area of your body and transferred to the treatment site to encourage new growth.
While it may take four to nine months for the bone graft to fully strengthen your jawbone, the end result will be worth it. You'll have a powerful foundation for your brand-new smile!
Sinus Lifts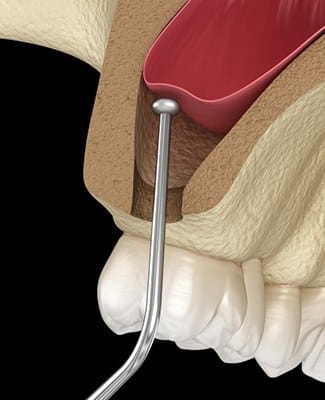 During your initial consultation, we'll capture an X-ray of your mouth to see your upper jawbone and how much bone loss it has experienced, if any. In some cases where patients have thin bone on their upper arch, there may not be enough room by your sinuses for us to successfully place the implants without having them protrude into the cavities. We can perform a sinus lift in Federal Way to gently lift them upward and insert bone graft material to protect your sinuses and provide enough room for the dental implants to be inserted in the upper arch.
Maintaining & Caring for Your Dental Implants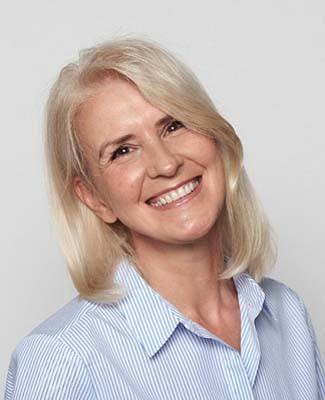 One of the biggest reasons why dental implants are such a popular tooth replacement option is their incredible lifespan. Unlike dentures and dental bridges, dental implants in Federal Way have the potential to last a lifetime! That is, of course, if you take care of them properly. Thankfully, keeping your newly rebuilt smile healthy and sparkling is an easy task. Simply practice a few easy but essential habits and take some simple precautions to ensure your dental implants last for decades to come.
Make Oral Hygiene a Priority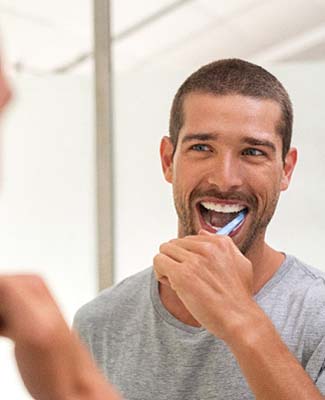 Whether you've replaced one missing tooth or an entire arch with dental implants, it's essential that you practice great oral hygiene. A buildup of plaque and bacteria around the base of your new teeth can lead to bacterial infections in the gums. This could damage the supportive tissues that help hold your dental implant in place. Thankfully, you can keep your dental implant and the rest of your teeth healthy by:
Brushing your teeth for a full two minutes twice a day.
Flossing between all your teeth on a daily basis.
Rinsing with an antibacterial mouthwash regularly.
Eat a Healthy Diet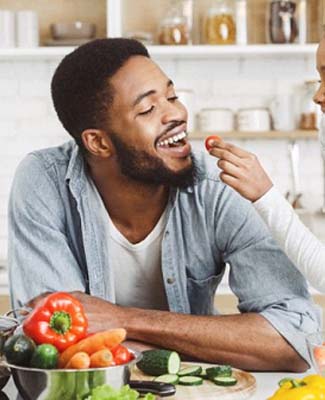 Good dental implant care in Federal Way involves more than simply cleaning your mouth. Your diet also affects the longevity of your implants. In general, a mouth-healthy diet involves the same foods that also benefit your overall health, such as leafy greens, fruits, lean proteins, and calcium-rich dairy products. You can still enjoy sweets in moderation, but eating too much sugar can increase the risk of gum disease and dental implant failure.
Break Bad Habits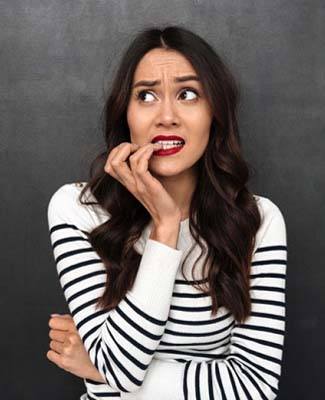 As durable as dental implants are, they're not meant to withstand forces stronger than those required to chew your food. If you have a habit of biting your fingernails, eating ice, or chewing on pens, you should try to quit if you want your implants to last. These habits could all too easily break a restoration or even damage the implant post itself.
Protect Your Dental Implants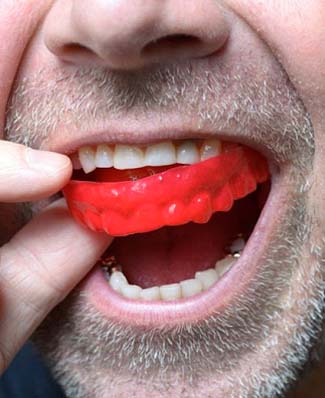 Although dental implants form an incredibly strong foundation in the jawbone, they're not invincible. Continuous extra pressure or a sudden blow to the face could potentially loosen or dislodge them. Make sure to protect your dental implant by:
Wearing a custom mouthguard when participating in contact sports like football, basketball, or baseball.
Wearing a nightguard to bed if you suffer from bruxism (a condition that causes you to grind your teeth while sleeping).
Schedule Regular Dental Checkups
Even if you don't have any natural teeth left, you should still visit your implant dentist in Federal Way twice a year for routine checkups and cleanings . These quick and simple visits allow us to keep an eye on your teeth, dental implant, and the rest of your oral health. If we spot any early warning signs of issues like damage or infection, we can address them right away before they get worse and potentially threaten your dental implant. In fact, the main goal of these appointments is to keep your smile healthy and clean in order to prevent any problems from developing in the first place!
Dental Implant FAQs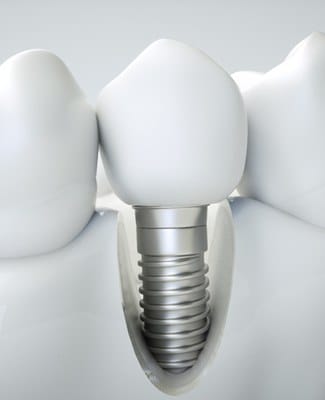 Curious about dental implants for yourself or for a loved one? We're happy to answer any questions you might have about the procedure so that you can make a well-informed decision that'll keep you smiling well into the future. Here are the answers to some of the more common dental implant FAQs in Federal Way. Feel free to call us if you don't find the information you're looking for!
Are Dental Implants Right for Me?
Almost anyone with a missing tooth could be a candidate for dental implants, but there are some situations where we'll need to take additional steps before the procedure can be performed. For example, if there's been significant bone loss in your jaw, it might not be able to successfully join with and support dental implants; you could potentially still be a candidate if you get bone grafts. Also, oral health problems like gum disease will need to be dealt with so that we can avoid complications during the actual implant surgery.
How Long Will Dental Implants Last?
Compared to other restorations, dental implants have a very long lifespan. In many cases, they'll stay for 20 or 30 years, and sometimes they might even last the rest of a patient's life without needing to be replaced! To get the most out of your dental implants, brush and floss every day, and keep up your regular checkups and cleanings with Dr. Beaty.
Keep in mind that the prosthetic teeth won't have the same lifespan as the actual implant posts. In general, your prosthetics will need to be replaced every 5 to 15 years.
How Successful Are Dental Implants?
Getting dental implants is considered to be a very safe procedure. In fact, the surgery has a success rate of more than 95%! That said, to avoid dental implant failure, you need to make sure that you have excellent oral health overall. For example, if you smoke, it could stop your mouth from healing correctly and greatly increase your risk of a gum infection; these are both major reasons for implants to fail. Follow Dr. Beaty's instructions before and after the procedure so that you can keep your mouth in good shape and help ensure that you can keep your new teeth for life!
What Happens After Dental Implant Surgery?
Before your prosthetic tooth or teeth can be placed, the area where the implant was placed needs to heal. Recovery time largely depends on the number of implants, individual healing time, and the overall health of your bones. You'll be limited to a soft food diet for a time after the surgery. Yogurt, avocados, smooth soups, mashed potatoes, cooked fruits, soft pasta, and applesauce are all nutritious options.
After you get your implants, you'll have to wait for them to become fully integrated with the jaw before we can top them with crowns, bridges, or dentures. In the meantime, don't forget to brush and floss very gently around the area.
Does Getting Dental Implants Hurt?
As with just about any dental treatment you would get from us, your mouth will be numbed completely before the procedure begins. Moreover, the jawbone itself doesn't really have very many nerve endings to begin with, meaning that you're unlikely to feel much if any pain at all for the duration of the procedure.
After the treatment is done, it's common for patients to experience a little bit of tenderness around the surgical area. If we've prescribed you any pain medication, be sure to take it as directed—if not, you can rely on over-the-counter pain relief during recovery. If you notice that the discomfort gets worse instead of better over time, you should let us know.
How Can I Tell If My Dental Implant Is Failing?
Typically, dental implants that have finished the healing process fail as a consequence of severe infection. If you notice severe pain around your dental implant accompanied by inflammation and swelling, it may be that you're dealing with this kind of infection. In that case, you should contact us as soon as possible.
The same goes if you start to notice your dental implant actually coming loose. This is a sign of impending failure, which means that you should contact us immediately.
How Long Does It Take to Recover from Dental Implant Surgery?
All told, recovering from dental implant surgery really isn't all that difficult. Any bleeding should be minimal and will fade within a few days, as will any swelling. In fact, most people will be able to return to work as soon as the day after the surgery.
Again, if you take any medications you were prescribed as directed, and rely on OTC pain relievers when necessary, you should be just fine. It is worth noting, however, that it will take as long as six months for dental implants to fully fuse with the jawbone, so you should take it easy on your new implant until then.