Meet the Team
Dr. Beaty's office is occupied by experienced dental assistants, hygienists, office managers and patient coordinators whose number-one priority is making you feel comfortable during your visit. They are just as passionate about providing a very high standard of care as Dr. Beaty, regardless of your needs. Their customer service expertise, dental knowledge and attention-to-detail proves their abilities to provide patient-focused care. To learn more about their path to Dr. Beaty's practice, take a moment to read their stories below!
Sally, Office Manager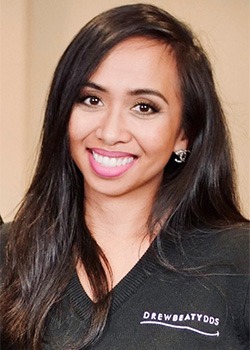 Sally first joined Dr. Beaty's practice in 2013, and she has almost 20 years of experience in dentistry overall. She was born in the Philippines and came to the United States as a child, growing up in California. She then moved to Alaska at the age of 19 and stayed there for nearly a decade, followed by a year spent living in Hawaii. Finally, she settled in Washington state in 2008, which is her favorite of them all! She studied at San Joaquin Delta College and the University of Alaska in Anchorage. She's also received additional training from the Scheduling Institute and is certified in CPR. She is proud to provide high-quality knowledge and care to the patients she helps and the staff members she works with.
Outside of work, Sally and her husband Lonny have a daughter named Ahriyanna. As one of seven children, she has lots of nieces and nephews too, regularly spending her free time with family. Other hobbies include cooking, traveling, shopping, and keeping up with fitness.
Kayla, Patient Coordinator/Marketing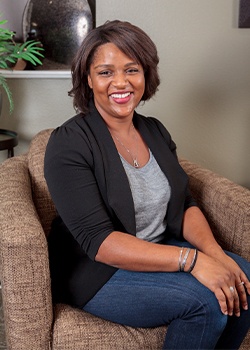 Kayla first became a member of our team in 2016. She's a very social person with lots of contagious laughter and a great sense of humor for all ages – the perfect recipe for an awesome dental visit! In addition to attending South Seattle Community College, she has additional training in Medical Billing and Information Technology from MBIT. Her favorite part of this position is being able to surprise patients with an inviting and family-friendly environment that leaves them wanting to smile.
Kayla and her fiancé Ned have a daughter named Amina, a son named Aydin, and a fur baby named Gunny. When she isn't busy at work, she enjoys cooking, doing crafts, going on hikes, Zumba, and spending quality time with her family. Her new found passion is woodwork, and creates handmade planters from tree stumps on her spare time.
Paula, Patient Coordinator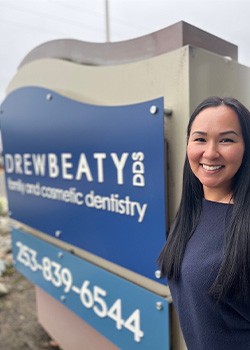 Paula studied dentistry at Bates Technical College and has a background as a registered dental assistant. As our Patient Coordinator, she greatly enjoys being able to help patients stay on track when it comes to improving their oral health. She's always happy to see people who are grateful for the services we provide!
Paula has a loving husband along with four kids. She spends a lot of time with her family; she often goes to her son's soccer games and her daughter's cheerleading events. In her spare time, she likes to cook, get organized, and hang out with her friends.
Tricia, Insurance Coordinator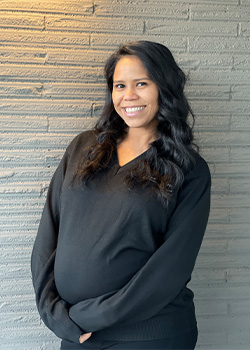 Originally from Lahaina in Maui, Tricia attended the University of Maui, Pierce College, and William Penn University for her studies. Since then, she has earned her CNA, CPR, and HIPAA certifications. Since joining our team, she has thoroughly enjoyed being able to learn something new every day and being involved in the business aspect of the dental field.
Outside of dentistry, Tricia's interests include gardening, spending time with family, and exploring this wonderful state. One thing you may not know about her is that she rides a 2007 Harley Davidson Sportster 1200c!
Jill, Dental Assistant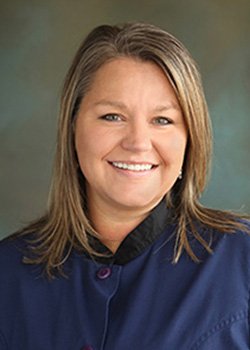 Jill has been working in the dental field for more than 30 years now. She has advanced training in pediatric dentistry, implant/sinus lifts, Invisalign, Itero restorative training, cosmetic dentistry, and more. Today, what she enjoys most about her position is the relationships with her patients and working with her team.
Jill is from Kirkland, and her family consists of her husband Charlie, her children Alexa, Paris, Liz, and Chase, her son-in-laws Ryan, Justin, and Chris, and her granddaughters Elsie, Nora, Brock, Parker, and Tiegan. When she isn't busy at the office, her favorite hobbies include camping, cooking, watching movies, entertaining, and wine tasting. She's also always up for cheering on the Seahawks, Sounders, and Huskies.
Carrie, Dental Hygienist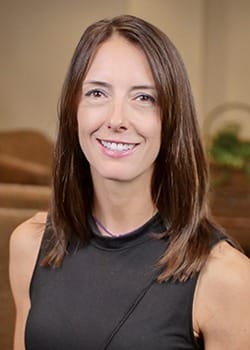 Carrie has an impressive 20+ years of experience in the world of dentistry under her belt. She attended both Pierce College and Eastern Washington University, joining our team in 2014. When asked about her favorite part of her job, she shared that it's helping each patient improve their oral health alongside her amazing team!
Originally from Beaver City, NE, Carrie has a passion for climbing mountains and rocks, traveling, completing triathlons, practicing yoga, and eating good food. One thing you may not know about her is that she was in the Army Reserves for 23 years!
Caley, Dental Hygienist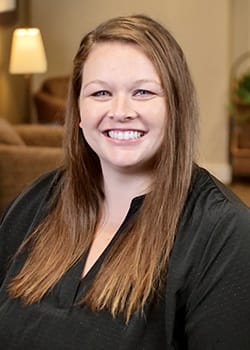 Caley joined our team in February of 2020, bringing more than a decade of experience with her. She studied at Pima Medical Institute before earning her certification OSHA/WISHA and becoming a member of the American Dental Hygienist's Association. After all these years of being in the dental field, her favorite part of her job continues to be building relationships with her patients.
Outside the office, Caley enjoys spending time with her family, including her husband, children, two dogs, and two cats. She also loves golfing, swimming, and reading. Here's an interesting fact about her: she's a Harry Potter enthusiast – her two cats are named after characters from the series!