Tooth-Colored Fillings – Federal Way, WA
Your Invisible Restoration Solution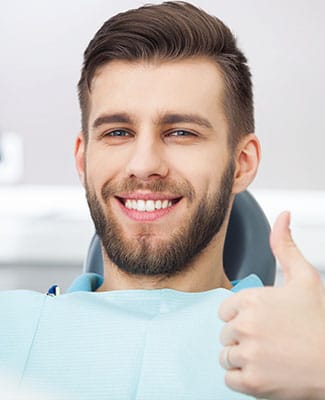 Do you remember when getting a cavity filled meant having to deal with a silvery blob on your tooth? Luckily, with Dr. Beaty and our experienced team, those days are long gone. Instead of old-fashioned amalgam fillings, we offer tooth-colored fillings that restore not only your teeth's health and strength but their appearance as well. In fact, others will likely not be able to tell that you ever had a cavity there to begin with.
What are tooth-colored fillings made of?
Unlike amalgam, which is a compound of mercury, silver, tin, and copper, tooth-colored fillings are completely metal free. They consist of composite resin, which is a combination of plastic and fine ceramic particles. As a result, this material is biocompatible and flexible and can be shaded to match your teeth's enamel. This material also bonds well to your tooth structure, forming a tight seal.
What are the benefits of tooth-colored fillings?
Although amalgam fillings are strong and durable, they have some obvious downsides. Not only do they look unattractive but they also require removing additional healthy tooth structure to ensure that they stay in place. On the other hand, tooth-colored fillings have several advantages including the following:
They appear natural.
They preserve more healthy tooth structure.
They strengthen and reinforce your natural tooth.
They protect your tooth from additional decay.
How are tooth-colored fillings placed?
When Dr. Beaty has identified decay in a tooth, we follow this process to fill it:
He will numb the area with a local anesthetic.
Then he will remove the decayed portions of your tooth, ensuring that what remains is completely clean.
The putty-like composite resin is then colored to match your tooth and applied to the tooth.
Beaty will then sculpt the composite resin to appear like a natural tooth.
A curing light is used to make the resin harden more quickly.
Then he will make any final adjustments to the filling, smoothing out any rough surfaces and making sure your bite feels comfortable.
The process is that simple and straightforward. Within a short amount of time, your tooth's health and appearance are fully restored!
How should I care for my tooth-colored fillings?
The lifespan of your tooth-colored fillings can greatly depend on how well you maintain them. The good news is that caring for them is exactly the same as caring for your natural teeth. At minimum, this entails brushing and flossing daily and visiting our dental office twice every year for checkups and cleanings. These basic hygiene habits are essential for your oral health in the long run.
If you'd like extra protection from cavity-causing bacteria, here are a few other helpful habits you can incorporate into your routine:
Consume less sugar in food and drinks.
Drink more water.
Use a fluoride mouthwash daily.
In our practice in Federal Way, we are committed to delivering the best treatment methods available in dentistry so that you can enjoy your beautiful, healthy smile for years to come. If you think you have a cavity or if it's been a while since your last checkup and cleaning, contact us for an appointment today!