A Patient-Focused Promise for Your Dental Care
March 3, 2021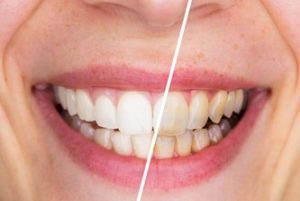 If you've noticed your smile is starting to look a bit darker or more yellow than what you're used to, you may be wondering what you can do to change it. Whether you're looking for budget-friendly options or are ready to invest in your smile with cosmetic dentistry, you have quite a few options. Keep reading for 4 simple ways to whiten your teeth.
Brush with Baking Soda
Some toothpastes have baking soda in their ingredients, due to its natural whitening properties, but it also creates an alkaline environment in your mouth that helps minimize bacteria's ability to grow and multiply. The higher the concentration, the greater the effect. It won't whiten your teeth immediately, but with frequent use, it is likely that you will notice a difference in the color of your teeth over time.
Eating Raw Fruit and Vegetables
While a diet high in raw fruits and veggies is no substitute for brushing, but chewing them can help remove plaque. Although one recent study has found very little color change using this natural remedy, brushing with a mixture of strawberries and baking soda to whiten teeth is very popular among celebrities.
Minimize Dental Exposure to Items That Stain
It may seem obvious, but limiting the number of foods and drinks that are known to stain is one way to avoid dental staining. Drinking beverages that can stain through a straw can help minimize its contact with your teeth. If you enjoy foods that are known for staining, you will want to brush your teeth about 30 minutes after eating in order to reduce their ability to stain your teeth. It's also a good idea to avoid smoking or using products that contain nicotine, as they are often known to cause discoloration as well.
Professional Treatments
If you have severe staining, it may be a good idea to seek assistance from your dentist rather than stressing about other options that may not provide the results you want. Two minimally invasive treatments include direct bonding and a professional teeth whitening treatment.
Teeth Whitening – If you are simply looking to whiten your teeth, your dentist in Federal Way offers Zoom! Whitening, a treatment that can make your teeth several shades whiter than they were in as little as one hour!
Direct Bonding – If you have worn-down enamel or are dealing with chipped, misshapen or crooked teeth in addition to discoloration, direct bonding may be a better option. Your dentist will apply a tooth-colored composite resin to your teeth and sculpt it to give them the perfect appearance. This can be done in under an hour, depending on how many teeth need to be corrected, and it can last for more than 10 years!
No matter what option you choose to whiten your teeth, one of the best and easiest ways to enhance your smile is by practicing a proper dental routine. Flossing regularly and brushing for two minutes twice a day will help prevent the yellow or brown-tinted tarter from darkening the color of your teeth.
About the Practice
Drs. Drew Beaty and Chloe Mirick are dedicated to providing comprehensive dental care in a comfortable environment. Whether you are seeking cosmetic dentistry treatments like teeth whitening or simply need dental exams and cleanings for the whole family, this team of dentists is ready to help you achieve your best and brightest smile. If you're ready to transform your smile, contact the office at (253) 839-6544 or visit the website to schedule your appointment today!
Comments Off

on 4 Simple Ways to Whiten Your Teeth
No Comments
No comments yet.
RSS feed for comments on this post.
Sorry, the comment form is closed at this time.