A Patient-Focused Promise for Your Dental Care
July 13, 2019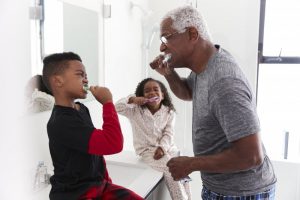 Even though you keep up with your dental routine, do you still have frequent oral health problems? When you develop healthy habits for your mouth, you can ward off problems like tooth decay and gum disease. However, sometimes life can cause you to rush through these routines in order to get to school or work on time. To keep your gums and teeth healthy for years to come, follow these best dental practices.
Brushing Away Problem-Causing Plaque
Developing good brushing habits can be one of the most effective ways to ward off tooth decay and prevent enamel erosion. The American Dental Association recommends brushing twice each day. To keep your teeth healthy and happy, be sure to:
Brush once in the morning and once in the evening after you've eaten your last meal of the day.
Brush for at least two minutes, paying special attention to each part of your mouth and in the hard-to-reach areas.
Brush beneath the gum line at a 45-degree angle.
Brush the entire surface area of each tooth.
Be sure to also brush your tongue to remove food debris and bacteria.
As a side note, purchase oral hygiene products with fluoride in them that have an ADA seal of approval.
Trap Food Debris and Freshen Breath By Flossing
The American Dental Association also recommends flossing at least once every day to prevent bacteria buildup and bad breath. This helps remove plaque and food debris that has built up throughout the day and is trapped between your teeth. Be sure to:
Floss each day using whatever kind of floss feels best on your mouth and gums.
Gently and thoroughly work between each tooth.
Move the floss against the curve of your tooth to prevent gum damage.
Be sure to wind your used floss with one finger so you don't reuse it and deposit debris back between your teeth.
Antibacterial Mouthwash to Keep Your Breath Minty Fresh
Using a bacteria-neutralizing mouthwash each day can be the cherry-on-top of your oral hygiene routine. Although it's not required to maintain healthy gums and teeth, mouthwash can control the number of harmful oral bacteria in your mouth that are known to cause cavities and bad breath. During this step, be sure to:
Select a mouthwash with the ADA seal of approval.
Rinse your mouth only after you've already brushed and flossed.
Swish a small among of mouthwash around your mouth for 30 to 40 seconds, being sure not to swallow.
Schedule Your Checkups and Cleanings
In order to make sure all of your hard work at home counts, it's important to visit your dentist every six months for a professional checkup and cleaning. Even if you're diligent about your at-home routine, they're able to spot problems that are naked to the visible eye and clean the nooks and crannies of your mouth that you can't get to with a regular toothbrush.
About the Author
Dr. Drew Beaty has over two decades of experience in the dental field and focuses on providing his patients with preventive treatment to save them time, money, and hassle in the long run. He looks to exceed his patients' expectations and give them excellent dental care that will allow them to be happier, healthier, and live longer. He completes over 100 hours of continuing education courses each year to provide his patients with the latest techniques and treatments. For questions or to schedule a routine checkup and cleaning, visit his website or contact 253-839-6544.
Comments Off

on A Complete Guide to the Best At-Home Dental Routine
No Comments
No comments yet.
RSS feed for comments on this post.
Sorry, the comment form is closed at this time.