A Patient-Focused Promise for Your Dental Care
December 3, 2022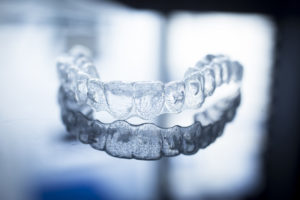 Are you unhappy because of your crooked, crowded, or gapped teeth? Invisalign can be a discreet and effective way to achieve the straight smile of your dreams. However, that's only the case if you care for your aligners properly. Otherwise, you may end up delaying or even preventing the results you desire. Keep reading to learn some of the most important steps for cleaning Invisalign in Federal Way.
Invisalign Cleaning Best Practices
To keep your Invisalign aligners in great shape, you need to go beyond simply rinsing and instead thoroughly clean them on a daily basis. Rinsing your aligners with water may make them appear slightly cleaner but won't remove all the unseen bacteria that can build up. Invisalign cleaning best practices include:
Rinse your aligners with water every night.
Brush your aligners with a soft-bristled toothbrush (not the one you use to brush your teeth daily) and gentle, clear liquid soap to remove any debris or food particles.
Rinse thoroughly after brushing.
Store your aligners in a protective case whenever they aren't in use.
Invisalign Cleaning Accessories
If you want to take your cleaning routine up a notch, consider using cleaning accessories sold by Invisalign. For example, Invisalign sells a "Steraligner" product whose ingredients include rubbing alcohol and sodium bicarbonate, a natural antiseptic. To clean your aligners, soak them in this sterilizing solution for three minutes, then rinse and brush them with warm water.
Invisalign also sells "cleaning crystals" that you dissolve in water and soak your aligners in. These crystals contain cleansing agents, including sodium sulfate, that are commonly used to clean plastic retainers.
Cleaning Agents You Should Avoid
When cleaning your Invisalign in Federal Way, avoid using harsh products that can damage your aligners. Examples of these include:
Denture cleaners
Mouthwashes, especially those that contain alcohol
Scented soaps, which can easily start to taste bitter
Cleaning soaps with added dyes, which can stain aligners
Toothpaste
In addition, using a coarse-bristled brush instead of a soft-bristled one may leave scratches on your Invisalign.
What the Research Says
A study published in the journal Clinical, Cosmetic, and Investigational Dermatology examined the pathogens on invisible aligners that were changed every two weeks for a 6-week period. They studied three approaches:
Rinsing with water
Using effervescent tablets plus brushing
Brushing the aligners alone with toothpaste and a toothbrush
After reviewing the results of their data, the researchers concluded that brushing and using effervescent tablets most effectively cleaned the aligners. They also determined that brushing was only slightly inferior to using tablets.
You can help ensure a smooth journey to a straightened smile by practicing excellent oral hygiene and cleaning your aligners daily. Before you know it, your treatment will be complete!
About the Author
Dr. Drew Beaty has over two decades of experience working in the dental field. The proud Northwestern University graduate regularly helps straighten patients' smiles with Invisalign clear braces. To learn more about caring for Invisalign in Federal Way, visit Dr. Beaty's website or call 253-839-6544.
Comments Off

on The Best Way to Clean Your Invisalign
No Comments
No comments yet.
RSS feed for comments on this post.
Sorry, the comment form is closed at this time.