A Patient-Focused Promise for Your Dental Care
March 4, 2022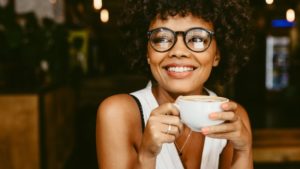 Have you recently gotten veneers to transform your smile? Are you getting them soon? If so, chances are you couldn't be more excited to enjoy a flawless set of teeth that can last for more than a decade. However, part of you is worried that your daily coffee habit will discolor your veneers in Federal Way, and that's the last thing you want. So, can you drink coffee with veneers without staining your new and improved smile? Keep reading to find out!
Will I Still Be Able to Drink Coffee with Veneers?
Of all the cosmetic dentistry services that can improve your smile, veneers are by far the most resistant to discoloration. After all, some tooth stains cannot be removed even with professional whitening treatment, and veneers are an excellent way to simply cover them up. Plus, veneers can easily last for 15 years or longer if you take good care of them!
Unlike natural tooth enamel, veneers are not porous, so they don't absorb staining particles as easily as teeth do. That being said, veneers can still become gradually discolored if they're continually exposed to darkly colored foods and beverages or tobacco without being cleaned. In other words, it is possible for coffee to stain veneers over time.
Fortunately, you don't have to completely cut coffee out of your diet if you have veneers. You may simply need to rinse and clean them more often.
Tips to Prevent Coffee from Staining Your Veneers
Generally, veneers only stain if they're frequently exposed to dark materials and/or if you don't maintain adequate oral hygiene. Here are a few simple steps you can take to minimize the risk of coffee dulling your bright new smile:
Limit foods and beverages that stain – While you don't need to give up your coffee habit, you can protect your veneers by cutting back on dark-colored beverages. If possible, switch to iced coffee and sip it through a straw. This prevents the liquid from making much direct contact with your veneers, thereby reducing the likelihood that discoloration will occur. After you drink one of these beverages, rinse your mouth out with water to prevent stains from setting in.
Avoid tobacco – Cigarettes (including electronic ones) notoriously discolor teeth and can do the same to veneers. Consider asking your dentist to point you toward resources that can help you kick the habit.
Practice good dental hygiene – Whether you have veneers or not, brushing and flossing every day is crucial for maintaining a bright, healthy smile. You don't need to brush with whitening toothpaste; in fact, it could be abrasive to your veneers. Just remember to brush twice a day, floss at least once a day, and visit your dentist twice a year for professional cleanings and checkups.
Keeping your veneers stain-free isn't all that different from keeping natural teeth white. As long as you follow the steps outlined above, you should be able to enjoy your morning cup of joe without compromising your brilliant smile!
About the Author
Dr. Drew Beaty earned his Doctor of Dental Surgery degree from Northwestern University in Chicago and has been helping families in Federal Way, WA for over two decades. He offers a vast array of dental services, including veneers, and he would love to give you a confident smile that can last for years to come. To learn more about making the most of your veneers, you can visit his website or call his office at (253) 839-6544.
Comments Off

on Can I Drink Coffee with Veneers?
No Comments
No comments yet.
RSS feed for comments on this post.
Sorry, the comment form is closed at this time.