A Patient-Focused Promise for Your Dental Care
July 11, 2017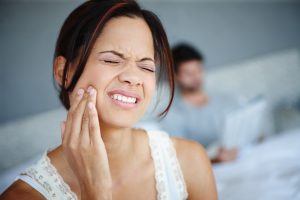 Imagine you're enjoying one of your favorite snacks, an extra crunchy peanut brittle and popcorn mix, and then you feel a sharp pain in the back of your mouth. Oh no! one of your molars has cracked. Luckily, if you have a damaged tooth in Federal Way, your dental team at Drew Beaty DDS Family & Cosmetic Dentistry can help restore it. Our office offers dental crowns and bridges for patients that want a full, healthy smile all the time.
Wait, but what are dental crowns?
Our dental practice offers a great dental restoration for patients who want to fix their damaged teeth: dental crowns. A dental crown is a restoration that caps an individual tooth. Dental crowns can also be combined with dental implant posts to replace missing teeth as well. Getting a dental crown can significantly improve the tooth's health, appearance, and position within the smile. There are several reasons Dr. Beaty may recommend having a dental crown placed, including:
Restoring a tooth that has undergone root canal therapy
Restoring a dental implant
Rebuilding the structure of a badly injured or fractured tooth
Protecting a weak tooth from the threat of fracture
Giving an unsightly tooth a beautiful makeover
Restoring a large area of decay that's too severe for a filling
What if I have more than one damaged tooth?
Sometimes, patients may have multiple damaged teeth. To keep this damage from spreading and affecting other teeth, your dentist will recommend using several dental crowns in Federal Way. In other words, Dr. Beaty will recommend a dental bridge.
Dental bridges are a series of dental crowns used to strengthen damaged teeth or replace several missing teeth. Multiple dental crowns are attached together to create the bridge. By being cemented to natural surrounding teeth, a dental bridge can restore the strength of your natural teeth and overall smile. This same process can be used to replace multiple teeth with one dental implant post as well. The dental porcelain we use can match your natural teeth, camouflaging your restorative procedure among your original teeth. These restorations are truly versatile!
What makes a patient a suitable candidate for dental crowns or bridges?
Are your teeth extremely sensitive? Did you just suffer a dental injury from crunchy foods? Your cosmetic dentist would be more than happy to determine whether dental crowns or bridges are right for you during a scheduled consultation. During your visit, Dr. Beaty will assess your mouth and examine the damaged area.
The best way to determine if you're a good candidate or not is to allow us to take a thorough look at your mouth. In the case that you do need dental crowns or dental bridges, we would be more than happy to help you. In no time, you'll have restored teeth with restorations that seamlessly fit within your smile. Contact us today!
Comments Off

on Do You Have Damaged Teeth in Federal Way? We can Help!
No Comments
No comments yet.
RSS feed for comments on this post.
Sorry, the comment form is closed at this time.