A Patient-Focused Promise for Your Dental Care
September 13, 2020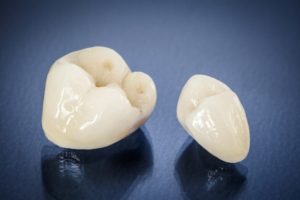 Nowadays, your dentist can preserve your natural teeth for longer than ever using the latest innovations in dentistry, even a tooth that has experienced significant damage. Dental crowns in Federal Way are widely used in restorative and cosmetic dentistry to improve the health, function, and appearance of a patient's smile. While you might be picturing a dark metal restoration, crowns are made from a variety of materials. Here's what you need to know to pick the right material for your needs.
Gold
Gold has held a commonplace in dentistry for generations because it's durable, especially for patients who have a habit of grinding or clenching their teeth. In addition, the material is thin, providing a more conservative treatment when preparing the tooth for the crown. Unfortunately, it's noticeable appearance may not make it the best option for patients who are treating a front tooth because it can stand out from your real teeth.
Porcelain Fused to Metal
You can enjoy the durability of a metal restoration while benefiting from a more natural-looking appearance using zirconium as a base. Porcelain is fused and stacked in layers on top of a metal base, like gold. This allows the restoration to look more natural by covering the dark appearance of the metal. Unfortunately, if you have metal sensitivities, you'll still experience discomfort if the crown has an allow base.
Full Porcelain
Full porcelain restorations are one of the most popular treatments for a broken tooth in Federal Way. The crowns are extremely aesthetically pleasing and closely mimic a real tooth. They also don't conduct heat or cold well to minimize any potential sensitivity. Although they aren't made of metal, they remain equally durable; however, they may not be suitable for patients who grind or clench their teeth.
Zirconia
Zirconia is a white crystalline oxide made of metal zirconium. This allows it to look natural. Crowns can be made completely of zirconia or with porcelain fused to it. No matter which is used, the crown can be customized to match the color of your enamel to blend in seamlessly when you smile. If you have metal sensitivities, you might need another option because it can cause a reaction for some patients.
Which is Right for Me?
If you need a dental crown, your dentist will perform a thorough consultation and discuss your desires to create a list of recommendations. They will discuss the pros and cons of each option to help you make an educated decision for your smile. With more options than ever, you can get the high-quality crown you need to invest in your dental health.
About Dr. Drew Beaty
For over 20 years, Dr. Drew Beaty has provided exceptional dental care to the community. He strives to provide high-quality services using the latest advancements in dentistry. Dr. Beaty offers various materials for dental restorations, including all-ceramic crowns. You can rest assured your crown will look and feel natural to invest in the health and appearance of your smile. If you need a crown, contact our office today to schedule your consultation.
Comments Off

on What's the Best Dental Crown Material?
No Comments
No comments yet.
RSS feed for comments on this post.
Sorry, the comment form is closed at this time.