A Patient-Focused Promise for Your Dental Care
March 6, 2023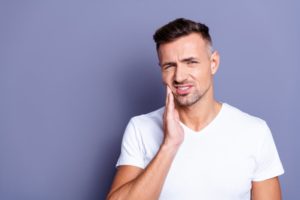 When it comes to dental emergencies, you may think of having a knocked-out tooth or loose dental crown. However, if you are experiencing facial pain, it may be a sign of an oral health problem that needs to be treated right away. Having discomfort in your forehead, cheeks, or mouth is not only hard to deal with throughout your day but could also be putting you at risk for more serious dental issues. Read on to learn about three dental emergencies that cause facial discomfort.
#1. Tooth Infection
When an infection of the soft tissues of your inner tooth (pulp) occurs, you have a tooth infection (also known as a dental abscess). When you have an untreated cavity, gum disease, or injury, your pearly whites are susceptible to further damage. These issues can lead to bacteria seeping into your tooth's nerves and blood vessels, causing facial pain in the cheeks.
These are the signs of an abscessed tooth:
Tooth or gum sensitivity
Swollen, inflamed, or red gums
Throbbing, persistent, or chewing pain
Fatigue and/or fever
A bitter taste in the mouth
#2. Dry Socket
Have you recently had a tooth removed? If you're experiencing pain in the area of the missing tooth, it could be due to a condition called dry socket. When the blood clot isn't properly formed around the surgical site, it leaves the nerves and bone tissue of your mouth exposed. A dry socket needs to be treated by your dentist as soon as possible to ensure the extraction site heals properly. Not only will this help you manage your facial discomfort, but it will also promote healthy bone growth in the area.
The most common indications of a dry socket are persistent discomfort from the extraction area, a foul taste in the mouth, bad breath, and the visible loss of the blood clot.
#3. Temporomandibular Joint Disorders (TMD)
The temporomandibular joint connects your jaw to your skull, allowing movement of your jaw to speak and chew your food. An oral health condition that hinders this joint from fully functioning is generally referred to as a temporomandibular joint disorder (TMD).
The symptoms of this issue include:
Clicking sounds whenever you open or close your jaw
Discomfort or pain around your jaw when talking or eating
A misaligned bite
Limited jaw mobility
Swelling or inflammation in the jaw
Fatigue
If you are experiencing pain in any area of your face, it's time to visit your emergency dentist so they can get to the root of your issue. You will not only be able to return to a healthy smile as soon as possible but ensure your oral health is in top condition!
About the Author
Dr. Drew Beaty is eager to help you with any unexpected dental issue and get you back to a healthy, whole smile! He graduated from dental school at Northwestern University and has completed all 9 levels of postgraduate education at the prestigious Kois Center for Dental Excellence. By using advanced dental technology and personalized plans, he offers a full range of services, including emergency care. To schedule a same-day appointment for your dental emergency, contact him through his website or call (253) 839-6544.
Comments Off

on What Dental Emergencies Can Cause Facial Pain?
No Comments
No comments yet.
RSS feed for comments on this post.
Sorry, the comment form is closed at this time.