A Patient-Focused Promise for Your Dental Care
May 21, 2020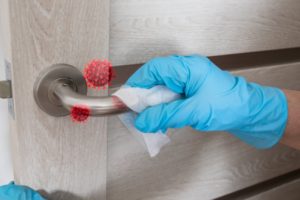 Dental practices were always safe, but now they're even safer due to the efforts of your dentist and their staff. If you're visiting your dentist for a checkup and cleaning in the midst of the COVID-19 pandemic, rest assured that your local dental team is doing everything they can to stop the spread of the virus and keep the community healthy. Read on to learn about five of the 26 COVID-19 safety protocols that your dentist is taking.
Daily Staff Health Checks
Each day, when your dental staff arrives at the office, they will receive a pre-screening to ensure that they're healthy and able to care for patients. Their temperature will be taken, and they will be asked a series of questions to ensure that they aren't experiencing the common signs of COVID-19. That way, offices can stop a potential spread before it ever begins.
Anti-Microbial Mouth Rinse For Patients
While the details of how anti-microbial mouth rinse temporarily renders the COVID-19 virus immobile in saliva aren't ironed out, several researchers believe that this is an effective preventive measure and can't hurt. Before you get in the treatment chair, you'll be required to rinse with it for 60 seconds in order to drastically reduce any active viral or bacterial substances present in your saliva. Some dentists may have you do this multiple times throughout your appointment.
Virtual Waiting Area
Instead of waiting in a small room with others, you can check-in and wait inside your car. This minimizes the chances that a patient who is leaving will come into contact with a patient showing up for their appointment. This also allows dental staff to take you directly to your treatment area from your vehicle, so you won't come into contact with any surfaces other than the ones that have been sanitized just for your appointment.
Spread-Out Patient Scheduling
In order to accommodate your dentist's new thorough disinfection protocols, patient appointments have been spread-out. That means that the team has added enough time between each patient visit to thoroughly sanitize the treatment area, waiting room, and instruments that the last patient has come into contact with.
Family Friendly Scheduling
If you have a family, roommates, or loves ones that you're living with, your dentist is offering an open scheduling day. You can bring in up to six people at once for a personalized dental service that doesn't make you come into contact with any other patients.
If you're worried about visiting your dentist for an appointment during the COVID-19 quarantine, there's no need! These new dental safety practices are creating a safe and highly sanitized environment for you and your loved ones to get the care they need.
About the Author
Dr. Drew Beaty has over two decades of experience in the dental field and is passionate about helping his community in Federal Way. He is extensively trained in several specialties, including sedation dentistry, and always puts his patients' health and safety first. He is currently implementing 26 safety protocols in response to COVID-19 so his patients won't have to worry about their exposure. For questions or to schedule an appointment, visit his website or call 253-839-6544.
Comments Off

on 5 New COVID-19 Safety Protocols Being Taken By Your Dentist
No Comments
No comments yet.
RSS feed for comments on this post.
Sorry, the comment form is closed at this time.