A Patient-Focused Promise for Your Dental Care
April 2, 2018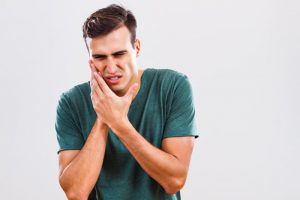 Ouch! At best, a toothache puts a damper on your day; at worst, it makes you utterly miserable. But "toothache" is a broad term that covers all sorts of problems that might assault your pearly whites. Your dentist in Federal Way is here to talk about a few different types of tooth pain and what they might mean.
Sharp Sensitivity
Sharp sensitivity when you eat or drink something that's hot or cold is a common problem. It may happen because of decay, gum recession, or maybe even because of a fractured tooth. In some folks, it occurs because their enamel is naturally thinner or weaker than that of other people, which makes it easy for substances to irritate the teeth's inner layers.
A dentist may be able to diagnose the exact cause of the sensitivity and recommend a treatment that enables you to start enjoying all of your favorite goodies again.
Dull Toothache
Dull toothaches are quite common, especially among people who grind their teeth. Decay and/or nerve damage are often the cause. While you may be able to manage the pain with mild OTC drugs, you should still see your dentist as soon as possible. A nightguard to prevent grinding, along with restorative treatments to get your smile's health back on track, may be what you need to stop your dull toothache from turning into an agonizing monster.
Pain Only When Eating
When you apply pressure to a tooth and it rewards you with pain, you probably have a cavity or dental fracture. These problems expose the inner parts of the tooth, which connect to the nerve that sends pain signals to your brain. Your dentist may be able to resolve the issue with a filling or crown. In some cases, root canal therapy may also be necessary.
Pain at the Back of the Jaw
Pain at the back of the jaw is often due to impacted wisdom teeth. When these third molars don't erupt properly from the gum line, they may cause overcrowding in your mouth and increase your risk of infection. The best way to stop this type of pain is to have the wisdom teeth extracted.
Intense, Throbbing Pain
Extreme pain in a tooth likely means that you have an infection or abscess. When this occurs, it's important to see your emergency dentist in Federal Way as soon as possible because you don't want the infection to spread. Root canal therapy, along with antibiotics, may be able to relieve your pain and stop the infection before it becomes severe.
Toothaches come in many varieties, but none of them should be ignored. When your pearly whites are in pain, it's time to head to your dentist in Federal Way for diagnosis and treatment.
About the Dentist
Dr. Drew Beaty, one of the top dentists in the greater Seattle area, is always willing to help patients who need prompt treatment. In most cases, we can even get you in for a same-day appointment. If you have a toothache and are ready for relief, please contact our office at 253-839-6544.
Comments Off

on What Causes Different Types of Tooth Pain? Your Dentist Explains
No Comments
No comments yet.
RSS feed for comments on this post.
Sorry, the comment form is closed at this time.