A Patient-Focused Promise for Your Dental Care
August 15, 2023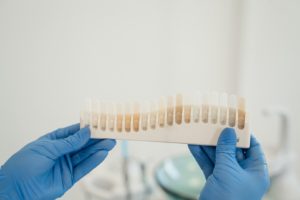 Dental implants are a great investment because they are a close replica of real teeth, providing results that look and feel natural. They are made of stain-resistant material, so your smile can stay bright and beautiful for many years. However, any remaining teeth are still vulnerable to discoloration. Teeth whitening can't turn back the clock, but it can be bad news if you have dental implants, and here's why.
Can Dental Implants Discolor?
Dental implants aren't porous like your enamel. As a result, they won't discolor, but they can look stained over time. Abrasive dental products can scratch the protective coating on your restorations, causing them to look discolored. Food residue and plaque can get trapped in the small crevices, making the issue worse and damaging your dental implants over time.
Not to mention, your natural teeth will discolor as time passes. This can cause your dental implants to stand out from your natural teeth.
Is Teeth Whitening Safe for Dental Implants?
Teeth whitening isn't recommended for patients with dental implants. It won't improve the color of your restorations and the whitening agents can irritate your gum tissue, increasing your risk of dental implant failure.
Teeth whitening will also improve the color of your enamel without changing your dental implants, causing inconsistencies that can lead to embarrassment.
Options to Reveal a White Smile
If you're battling tooth discoloration, you're not out of options. Your cosmetic dentist will create the personalized plan you need to ensure a bright smile. They may recommend teeth whitening before placing your restorations. If you already have dental implants, your dentist can remove your restorations and whiten your teeth. They will shade your dental implants to match the new color of your teeth.
Preventing Tooth Discoloration
You can help reduce the risk of tooth discoloration by following a few tips:
Use the Correct Dental Products: Use a soft-bristled toothbrush and non-abrasive toothpaste to clean your teeth to avoid scratching your dental implants.
Commit to Brushing and Flossing: Brush your teeth at least twice daily for 2 minutes each session. Don't forget to floss between your teeth and around your dental implants at least once a day.
Avoid Stain-Causing Foods: Limit your consumption of foods and drinks that can stain your teeth. As a rule of thumb, if it can stain a t-shirt, it can stain your enamel. If you can't resist a cup of coffee or a bowl of blueberries, rinse your mouth with water after you finish.
Visit Your Dentist: Schedule a cleaning and checkup with your dentist every 6 months. They'll keep your mouth healthy and promote the lifespan of your dental implants.
Don't feel embarrassed by tooth discoloration. Your cosmetic dentist can revamp your pearly whites.
About Dr. Drew Beaty
Dr. Beaty earned his dental degree at Northwestern University in Chicago and has continued his education in many specialties, including sedation dentistry. He has over 2 decades of experience creating healthy, beautiful smiles using the latest innovations in dentistry. Request an appointment through our website or call (253) 201-0124.
Comments Off

on Can I Receive Teeth Whitening with Dental Implants?
No Comments
No comments yet.
RSS feed for comments on this post.
Sorry, the comment form is closed at this time.