A Patient-Focused Promise for Your Dental Care
April 5, 2019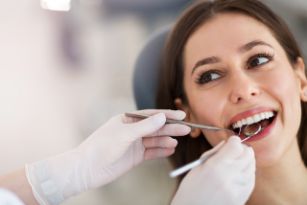 Many people think of oral cancer as a "smoker's disease" or something that only affects certain age groups. However, oral cancer has been on the rise in recent years and has been found more and more often in young people who don't smoke. This makes early detection especially important, which is more convenient than you may think since an oral cancer screening is done at every dental checkup! April is Oral Cancer Awareness Month, so keep reading to learn more about this disease and how simple it is to be screened by a dentist.
What Are the Risk Factors For Oral Cancer?
Dentists and doctors sometimes find oral cancer in people without any risk factors, but it's found more often when someone has one of the following:
A history of tobacco use
HPV
Frequent sunburns, which increases your risk of a type of skin cancer called melanoma that's commonly found on the border of the lips
Heavy drinking
Age
A weak immune system
How Can You Lower the Risk?
Early detection and prevention efforts are both important to battle this disease. First, don't use tobacco (or talk with a dentist or doctor about quitting). Second, consuming lots of fruits and vegetables has been found to lower the risk of many cancers in general, including oral cancer.
Also, wear lip protection with SPF and minimize prolonged sun exposure and abstain from alcohol or limit your consumption to 1-2 drinks per day.
What Are Screenings Like?
Getting an oral cancer screening takes just a few minutes during a dental checkup. To begin, your lips, cheeks, throat, palate, and under your tongue will be visually examined by both a hygienist and dentist. They'll also gently palpate your neck and under your jaw to see if there are any lumps, bumps, or tender areas.
Some dentists also use a special tool called a VELscope light so they can be as thorough as possible. This special light helps them see potentially suspicious areas that they can't with the naked eye.
Oral cancer is a devastating disease, but the survival rate is 85-90% when it's found early. With regular dental checkups and screenings, you'll give yourself the best chance at finding it early, when treatment is most effective. And that's something to smile about!
About the Author
Dr. Drew Beaty is an award-winning family dentist and a graduate of Northwestern University Dental School. His wife Kristin is a cancer survivor, so he takes oral cancer screenings very seriously and performs one at every checkup. He also uses the Velscope light so he can be as thorough as possible. If you have questions about oral cancer or want to schedule an appointment, he can be reached via his website.
Comments Off

on Had an Oral Cancer Screening Lately? A Dentist Discusses How Easy They Are
No Comments
No comments yet.
RSS feed for comments on this post.
Sorry, the comment form is closed at this time.