A Patient-Focused Promise for Your Dental Care
September 5, 2019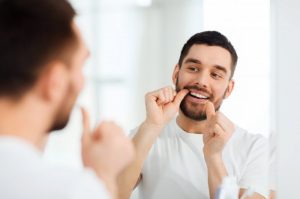 September is a lot of things: Hispanic Heritage Month, Baby Safety Month, and National Italian Cheese Month, to name a few. But did you know it's also National Gum Care Month? That's right, there's an entire month of the year dedicated to making sure your gums are in excellent health. How can you best celebrate this month? Continue reading to learn more about the importance of taking care of your gums and preventing gum disease.
Why Gums Are So Important
When we talk about brushing and flossing, we mainly do it in the context of keeping our teeth healthy. However, your gums are just as important to the health of your mouth, and even to the rest of your body. Your gums protect the sensitive roots of your teeth from being exposed to painful stimuli. If you don't take care of your gums, they can start receding, leading to all sorts of health problems.
All About Gum Disease
What is gum disease? It's a serious bacterial infection that usually occurs as a result of poor dental hygiene. If you catch it in the early stage, known as gingivitis, the symptoms can be reversed. You can avoid the more advanced stage, called periodontal disease, which presents more severe issues like receding gums and requires more extensive treatment. Tell your dentist if you experience any of the following symptoms of gum disease:
Red or swollen gums
Gums that bleed when you brush and floss
Receding gumline, resulting in teeth that look "longer"
Loose or shifting teeth
Pus oozing from your gums
Bump or sore on your gums
Pockets between your teeth and gums
If you don't get gum disease treated soon enough, the bacteria in your mouth could spread to other parts of your body, causing problems like:
Cardiovascular disease
Digestive issues
Birth complications in pregnant women
Diabetes
Dementia
How to Care for Your Gums
Fortunately, most of these problems can be prevented by taking good care of your gums. That includes following steps like:
Brushing your teeth twice a day with fluoride toothpaste
Flossing at least once every day
Quitting smoking or chewing tobacco
Keeping consumption of sugary foods and drinks to a minimum
Visiting your dentist every six months for a checkup and professional cleaning
Flossing more is the best way to clean your gums and remove plaque that can cause gum disease from between your teeth. That and regular dental visits are great ways to celebrate National Gum Care Month this September and all year round!
About the Author
Dr. Drew Beaty has more than two decades of experience in the dental field so far. He attended dental school at Northwestern University in Chicago. He is dedicated to staying on top of modern dentistry, as shown by the fact that he takes more than 100 hours of continuing education courses a year, which is four times the amount required by the Washington State Department of Health. If you think you may have gum disease, don't hesitate to contact Dr. Beaty by clicking here or calling (253) 839-6544.
Comments Off

on How to Celebrate National Gum Care Month by Preventing Gum Disease
No Comments
No comments yet.
RSS feed for comments on this post.
Sorry, the comment form is closed at this time.