A Patient-Focused Promise for Your Dental Care
July 6, 2023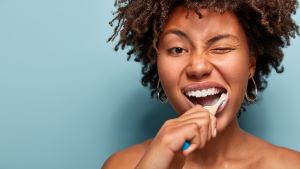 Once you get a set of new veneers, you're likely to be pleasantly surprised by how natural your new teeth feel. While it's hard to doubt that veneers look incredible, some people have trouble believing that they're going to feel like real teeth.
That said, part of their realism comes from how easy they are to take care of, involving just the brushing that you're probably already used to. However, there is one large difference, that being the toothpaste you use.
Here's more information about what kind of toothpaste is best for veneers.
Why Do Veneers Require Special Toothpaste?
It can be easy to take for granted just how hard the natural teeth are. The enamel that covers your teeth is the hardest substance in the entire body, even more so than the bones, which makes them surprisingly difficult to scratch.
Veneers, on the other hand, are typically made of porcelain. While pretty hard in its own right, this porcelain isn't quite as tough as enamel. Porcelain also has other properties that distinguish it from enamel. For these reasons, certain kinds of toothpaste that would be just fine for your teeth aren't okay for veneers.
Picking Veneer-Safe Toothpaste
If you want to brush your veneers without damaging them, there are two main kinds you'd need to avoid: abrasive toothpaste and whitening toothpaste.
Abrasive Toothpaste
In recent years, toothpaste with baking soda or charcoal has become popular for its ability to scrub away surface stains. However, these abrasives are too hard for porcelain and have the potential to leave deep scratches on your dental work. These scratches can easily become footholds for bacteria, and can negatively impact how your veneers look.
Whitening Toothpaste
Before getting your veneers, you may have tried to brighten your smile with whitening toothpaste. These kinds of toothpaste typically contain small amounts of hydrogen peroxide, which has a bleaching effect on enamel.
However, this substance doesn't work the same way on your veneers—in fact, this hydrogen peroxide can weaken the bond between your veneers and your teeth.
If you avoid these kinds of toothpaste, you should be able to keep your dental work in good condition for a long time to come!
About Our Practice
Welcome to the office of Drew Beaty, DDS! We know that not everyone expects a dentist that will truly care about their individual health, but we pride ourselves on exceeding expectations. Here, you'll find not only a team of experts who can help you keep your teeth healthy, but a group of people who will allow you to reach a smile you never even thought was possible.
If you have any questions about veneers, we can be reached at our website or by phone at (253) 839-6544.
Comments Off

on How to Pick Toothpaste For Your Veneers
No Comments
No comments yet.
RSS feed for comments on this post.
Sorry, the comment form is closed at this time.