A Patient-Focused Promise for Your Dental Care
June 20, 2019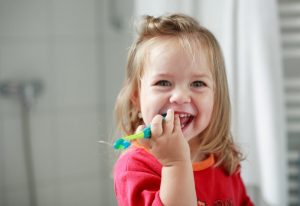 As a parent, you always want the very best for your kid. However, some parents neglect to teach their child proper oral hygiene habits, leading that kid to develop cavities later on. It's important to instill in children that brushing, flossing, and regular visits to the dentist are necessary for good oral health. Let's look more closely at how you can teach these habits to your kid.
1. Lead by Example
One way to make your child see how important brushing and flossing are is seeing you do those things. Kids like copying what their parents do. Set up a designated time every morning and evening for the whole family to brush and floss together. If they're still younger than 6 or so, you may have to do it for them, but the crucial thing is to make it a group activity. If they see how important good oral hygiene habits are to you, they will grow up with those habits instilled in them.
2. Use a Special Brush
Fun toothbrushes can spark an interest in brushing. Make sure to pick out a soft-bristled brush to avoid wearing down their enamel and causing them pain. Otherwise they won't be too happy about brushing! Getting your child a toothbrush with their favorite cartoon character on it can help them look forward to brushing. In addition, some kids find electric toothbrushes more fun than traditional ones. Some electric toothbrushes also have two-minute timers that let kids know how long they should brush.
3. Let Them Pick Their Favorite Toothpaste
While adults tend to associate a minty flavor with a fresh and clean feeling, mint can actually feel like it's burning the mouths of little ones. Take them to the dental section of your grocery store or pharmacy and let them examine the flavors. You may have to buy several and try them all out, but it will be worth it when they decide on a favorite that makes brushing enjoyable for them.
4. Set Up a Reward System
When your child first starts learning oral hygiene habits, it can be helpful to create a rewards system. Place a sticker on a chart or calendar every time your little one remembers to brush and floss all by themselves. Once your kid has achieved a certain number of stickers, take them out to the movies or the park or some other family activity. This way, your little one will come to associate oral hygiene habits with fun family time.
5. Talk About How Oral Hygiene Makes Them Look Better
This is especially important for older children and preteens. As they approach middle school, kids become laser-focused on their appearance. Be sure to stress to your child that regular brushing, flossing, and dental checkups make their smile look and feel great.
Brushing and flossing aren't exactly the most activities, especially for kids. However, by instilling habits in them from a young age, they can prevent cavities, gum disease, and more oral health problems. if you have any more questions, contact your children's dentist today.
About the Author
Dr. Drew Beaty earned his doctorate from Northwestern University in Chicago. He has completed at 9 levels of postgraduate education at the Kois Center for Dental Excellence in Seattle. He takes more than 100 hours of continuing education courses per year, which is more than 4 times the amount required. He enjoys treating patients of all ages, including little ones. To learn more about oral hygiene habits, click here or call (253)-839-6544.
Comments Off

on How to Teach Your Child 5 Good Oral Hygiene Habits
No Comments
No comments yet.
RSS feed for comments on this post.
Sorry, the comment form is closed at this time.