A Patient-Focused Promise for Your Dental Care
November 1, 2022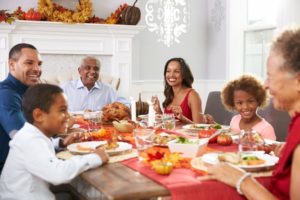 When it comes to replacing missing teeth, few options are as exceptional as dental implants! They're able to restore lost teeth in terms of look, feel, and functionality. And if you have dental implants, they've probably made your life much easier. This time of year, amidst everything that you're feeling thankful for, you should take a moment to appreciate everything your dental implants do for you. Here are just a few reasons to be thankful for dental implants in Federal Way this holiday season.
1. Comfortable, Natural-Looking Results
While other tooth restoration options like dentures are notorious for slipping around and popping out of place whenever you talk or eat, dental implants are actually embedded into your jawbone, meaning they are staying put. Thanks to this strong foundation, you're certain to enjoy comfortable and natural-looking results that can last for decades—and many more Thanksgiving dinners to come!
2. Boosted Self-Confidence
Along with dental implants comes a restored and complete smile, and with that, a huge boost in your overall self-confidence! Your smile will be at the center of all your family photos, and you'll feel great about laughing and conversing at the dinner table.
3. Fewer Oral Health Issues
No one wants a dental emergency to ruin their holiday plans! But fortunately, dental implants actually promote optimal oral health, since they mitigate serious oral health issues before they have the chance to manifest. With dental implants, you're at a lower risk of developing things like mouth infections, gum disease, and tooth decay.
4. Maintains a Strong & Healthy Jawbone
Since the implants are fused with your jawbone, they don't just offer impressive stability—they also improve the overall health of your jawbone and prevent deterioration! Your teeth aren't just important for biting and chewing; they also stimulate your jaw and provide important facial structure and support.
5. Enjoy All Your Favorite Holiday Foods
There's nothing quite as exciting as sitting down at the table with all of your favorite dishes laid out before you; and fortunately, dental implants will allow you to enjoy them all! Patients with other restoration solutions, like dentures, only gain back a portion of their bite power; but dental implants restore a sufficient amount, meaning that mealtime will be as satisfying as ever.
There's no doubt that your dental implants do a lot for you, but these reasons alone are enough to be thankful for such an incredible and innovative dental solution.
About the Practice
Dr. Drew Beaty and his amazing team are excited to serve the dental needs of the Federal Way area! Their practice is proud to offer a wide range of services including restorative options like dental implants. If you have any questions about dental implants or would like to arrange a visit, feel free to contact Dr. Beaty through his practice's website or over the phone for assistance: (253) 839-6544.
Comments Off

on Reasons to Be Thankful for Dental Implants
No Comments
No comments yet.
RSS feed for comments on this post.
Sorry, the comment form is closed at this time.