A Patient-Focused Promise for Your Dental Care
October 11, 2018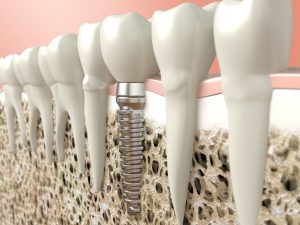 If you are among the 120 million adults in the U.S. who are missing at least one tooth, you have noticed several changes to your quality of life. Not only did you lose your confidence, but now you struggle to chew many of your favorite foods and speaking clearly is a challenge. Did you know there are other complications brewing beneath the surface you cannot see? Your jawbone is also slowly deteriorating. Over time, this can significantly impact your oral and general health. To stop the complications, it is best to replace your missing teeth in Federal Way with dental implants.

Why Am I Losing Bone Density?
Every tooth in your mouth has an important role in promoting your oral health and functions. When even one is missing, it causes you to lose density in your jawbone. Since there is no longer a root in place, your jawbone is not stimulated in that area. Essentially, your body decides it is no longer necessary, so it starts to deteriorate.
Although you may not feel like it is something you need to worry about right now, you can lose as much as 25% of its width within the first year after losing your tooth. Over the next few years, it can decrease in height by as much as 4 millimeters.
What Complications Will Occur?
If you do not stop the loss of your bone density, your remaining natural teeth lose support. As a result, they shift toward the open space, causing bite and alignment issues. Now, your teeth are harder to clean, increasing your risk of tooth decay and gum disease.
Over time, the lack of support causes your teeth to become loose and fall out. As you lose more teeth, your ability to chew many foods becomes limited. This can lead to nutritional deficiencies over time. In addition, the more bone and teeth you lose, the less support your facial structures have. Your face will appear aged and sunken.
How Can I Stop Bone Loss?
The only tooth replacement option capable of preserving the density of your jawbone are dental implants in Federal Way. An implant post is surgically placed into your jawbone to act as a new root. This stimulates your jaw to encourage new bone growth. You give your remaining natural teeth the support they need to stay in place while also preventing an aged appearance.
Stop Bone Loss Today!
If you are missing teeth, do not wait until it is too late. Your dentist in Federal Way has the solutions you need to complete your smile. See if dental implants are right for you today!
About Dr. Drew Beaty
Dr. Drew Beaty strives to improve his patients' quality of life through optimal oral health. He offers advanced solutions, including dental implants, to help you achieve a healthy, functional smile. If you are ready to stop the complications of tooth loss, contact our office today to see if dental implants are right for you.
Comments Off

on Replace Missing Teeth in Federal Way to Stop Bone Loss
No Comments
No comments yet.
RSS feed for comments on this post.
Sorry, the comment form is closed at this time.