A Patient-Focused Promise for Your Dental Care
February 14, 2017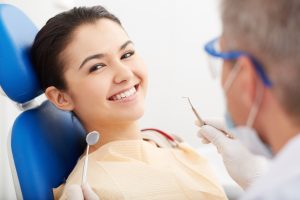 Why should you go to the dentist in Federal Way every six months? Dr. Drew Beaty tells his patients that preventive care keeps teeth and gums from expensive and complicated restorations. Smiles remain bright and shining, and preventive care fosters good overall health.
What Happens At A Routine Exam?
Your Federal Way dentist performs many important health assesments during a routine dental check-up, including:
Updating your medical, surgical and medication history
Looking for signs of decay
Assessing soft tissues for signs of oral cancer
A bite check for alignment problems
Jaw joint assessment
Periodontal probing to uncover gum disease
Also, a skilled hygienist cleans and polishes your teeth, removing harmful plaque and tartar. She may apply fluoride varnish to prevent decay and reduce dental sensitivity. Protective plastic sealants are appropriate for children's molars and for adults, too. Low radiation X-rays as needed complete the comprehensive exam.
Your Oral Health Is Linked To Your Systemic Health
More than 100 million Americans do not get regular dental check-ups, says the American Dental Association. This neglect  leads to devastating oral health problems, including missing and loose teeth, tooth decay, gum disease, jaw bone recession and undiagnosed oral cancer, a serious threat to oral health and overall well-being.
The American Academy of Periodontology states that the impact of untreated gum disease is wide-ranging, linked to major health problems such as:
Type-2 diabetes
Stroke
Heart attack and heart rhythm problems
Osteoporosis and arthritis
Dementia and Alzheimer's disease
Metabolic syndrome
Pregnancy complications
When your family dentist considers the evidence, it's no wonder he recommends semi-annual exams and cleanings for patients of all ages.
Check-ups Are A Time To Learn
When a patient visits Dr. Beaty, he or she receives important information on dental hygiene, the latest treatment and diagnostic techniques and other health-related topics. Children really benefit from their appointments as the hygienist and dentist reinforce at-home teaching received from Mom and Dad.
Also, Dr. Beaty can work through a comprehensive smile design step by step with each six-month visit. As oral health improves, the dentist will discuss the patient's aesthetic goals and how to translate those goals into reality. Topics may include:
Professional teeth whitening to bleach out stains from tobacco and dietary choices
Innovative dental implants to replace missing teeth and stabilize dentures and bridgework
Porcelain crowns to protect and beautiful decayed or otherwise damaged teeth
Direct bonding to repair small defects such as gaps and chips
Porcelain veneers to disguise teeth marred by deep stains, cracks and congenital defect
White fillings to repair tooth decay seamlessly
Schedule Your Dental Exams Twice A Year
Contact Dr. Beaty and his dedicated team to schedule your check-up. Your disciplined dental care will pay great dividends in oral and systemic health and an attractive smile.
Comments Off

on How Routine Visits With Your Dentist In Federal Way Keep You Healthy
No Comments
No comments yet.
RSS feed for comments on this post.
Sorry, the comment form is closed at this time.