A Patient-Focused Promise for Your Dental Care
January 10, 2020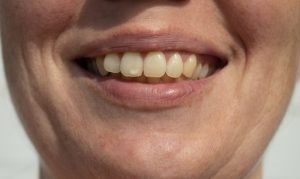 Have you ever looked in the mirror and noticed a white mark on your tooth that wasn't there before? Where did it come from? Are these white spots something to worry about? Of course, you could always make an appointment with your dentist if something on your teeth is really bothering you, but are these white spots something you need to be especially concerned about? Most of the time, no. Keep reading to learn some common causes of these spots and what you can do about them.
Dehydration
This item is the first because it's by far the most common reason for dental white spots. Many people simply do not drink enough water, and it results in demineralization of your tooth enamel. Not being well-hydrated means your mouth doesn't have enough saliva to bathe your teeth in protective minerals. To combat this, be sure to sip plenty of water throughout the day. Chewing gum can also help, as long as it's sugar-free!
Certain Medications
One of the most common side effects of an antibiotic called tetracycline is staining of the teeth. While this medication isn't commonly prescribed anymore, people whose mothers took tetracycline while pregnant may suffer from teeth discoloration. Oftentimes these stains can't be removed with regular brushing. They usually require professional teeth whitening treatment.
Too Much Fluoride
Fluoride is a naturally occurring mineral that strengthens your teeth, but there can be too much of a good thing. When you're exposed to too much fluoride, especially as a kid, it could result in a condition called fluorosis that causes white spots to appear on the teeth. If you have a child, make sure they only use a pea-sized amount of toothpaste.
Nutritional Deficits
When you don't consume enough calcium, you may develop a condition called enamel hypoplasia, causing white spots. People with celiac disease in particular, who have a hard time absorbing nutrients, may develop these marks. Talk to your dentist or doctor if you experience digestive issues after eating gluten, as celiac disease may be the culprit.
Bacteria
Our mouths are all full of bacteria, some of which can strip minerals away from the teeth and cause white spots. If these bacteria go untreated, they can wreak some serious havoc, like cavities and gum disease. Be sure to brush and floss every day to remove bacteria from the surface of your teeth.
More often than not, you don't need to be worried about white spots on your teeth. Still, if they're bothering you, it's best to see a dentist to discuss possible treatments.
About the Author
Dr. Drew Beaty is a graduate of Northwestern University's dental school. He is trained in sedation to help patients with a fear of the dentist relax in the dental chair. In addition, he takes more than 100 hours of continuing education courses a year, which is four times the amount required by the Washington State Department of Health. If you find yourself with white spots on your teeth, you can contact Dr. Beaty for treatment at (253) 839-6544.
Comments Off

on Should You Be Worried About White Spots on Your Teeth?
No Comments
No comments yet.
RSS feed for comments on this post.
Sorry, the comment form is closed at this time.