A Patient-Focused Promise for Your Dental Care
August 15, 2018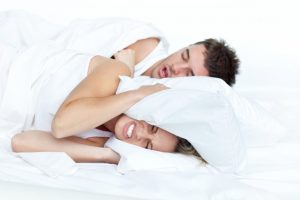 Have you been told that you're a loud snorer when you sleep? Do you find yourself feeling tired and lethargic throughout the day, even if you should have received enough rest? If you've answered 'yes' to these questions, then there's a chance that you're suffering from a sleep disorder. Your dentist says you may need sleep apnea treatment in Federal Way and explains what options are available to you.
What is Sleep Apnea?
Sleep apnea is a condition that involves the interruption of your sleep repeatedly throughout the night. The most common type is obstructive sleep apnea, which stems from the muscles in your throat collapsing while you sleep and partially blocking your airway. This can lead to loud snoring from the vibrations created from oxygen attempting to flow through a narrow passageway.
Thankfully, your body has a built-in protective mechanism that sends a signal from your brain through your nervous system that alerts you to awaken when there is an interruption in your breathing. For people who suffer from sleep apnea, this will happen repeatedly throughout the night, resulting in the following symptoms:
Lethargy
Depression
Irritability
Elevated Blood Pressure
Higher Susceptibility to Heart Attack and Stroke
There is Help for You
Thankfully, one of the specialties of your dentist in Federal Way is treating sleep apnea. Working in conjunction with your general doctor and a specialist who will perform a sleep study to verify that you have sleep apnea, your dentist can fabricate a custom appliance that you can wear at night.
If the above option isn't sufficient, you can then be equipped with a CPAP machine, which includes a mask that connects to a machine via a long tube that forces air into your passageway while you sleep.
Other Benefits of Sleep Apnea Treatment
One of the secrets of proper sleeping is that it contains healing properties. Thus, with sleep apnea treatment, you can expect your immune system to function at a higher level. That means you'll be better at preventing the common cold and the many infections that seek to bombard the body.
Furthermore, you'll enjoy better concentration and the ability to think clearly, which is important for performing at the highest level possible on your job or in other aspects of your life.
When you get the help you need for your sleep apnea, you won't be the only person who benefits from the treatment. Your spouse will also be able to get better rest. To learn more about how you can sleep better, reach out to your dentist to schedule a visit today.
About the Author
Recognized as a "Seattle Top Dentist 2009 through 2016," Dr. Drew Beaty remains committed to placing the care of his patients at the top of his priority list. Since earning his dental degree from Northwestern University in Chicago, he's worked tirelessly to expand his knowledge through continuing education courses, which helps him provide the best in dental care. Dr. Beaty helps patients sleep well at his private practice, and he can be reached for more information through his website.
Comments Off

on Are You a Snorer? You May Need Sleep Apnea Treatment in Federal Way
No Comments
No comments yet.
RSS feed for comments on this post.
Sorry, the comment form is closed at this time.