A Patient-Focused Promise for Your Dental Care
September 28, 2023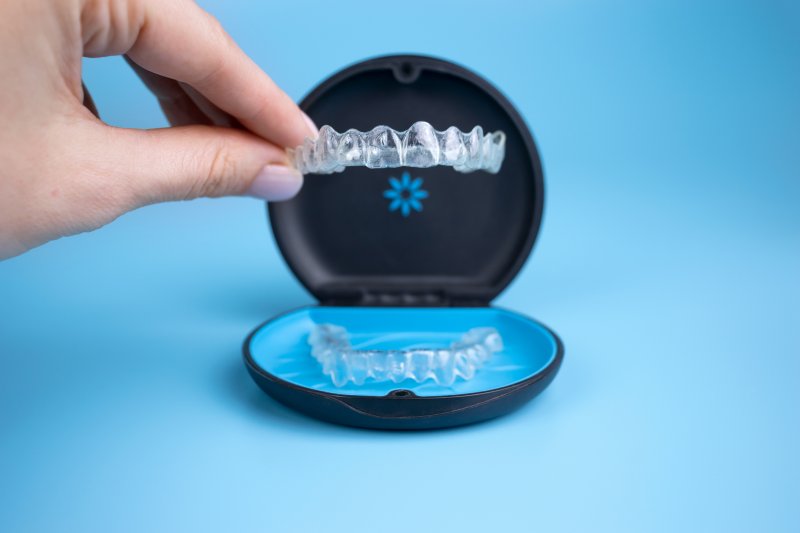 As you likely know, today's dentists can straighten teeth with clear aligners. The trays rely on micro-movements to bring your pearly whites into position. Still, you may be tempted by a seemingly more convenient option: mail-in clear aligners. These kinds promise effective results without the hassle of regular dental visits. In reality, though, they won't do you much good – such trays are unsafe. To learn more, here are four major ways that mail-in aligners are dangerous.
They Aren't Closely Monitored
Yes, mail-in aligners don't require many appointments. That said, this feature means they don't involve much (if any) professional supervision.
Remember, orthodontists don't have you visit just to mess with you. The appointments are crucial, as they let a professional monitor your treatment. That supervision ensures that your smile-aligning journey is progressing safely and correctly.
Given these facts, mail-in aligners' lack of visits is worrying. You won't have anyone to contact if a problem occurs with your trays.
They Aren't Tailored to You
Another risk of these aligners is that they aren't well-customized. Since you don't see a dentist for them, they rely only on a self-made impression you make at home.
You see, normal orthodontic work needs modification over time. You might see a dentist to tighten your braces or switch out your trays. However, mail-order aligners stay the same throughout your treatment. That means they won't be changed to reflect the further steps they should undergo.
Aside from delaying your results, these unchanging trays present health risks. They may be slightly misaligned, causing big problems for your teeth. Should that happen, it's all on you to know whether something's wrong and raise your concerns.
They Use Outdated Techniques
You might think mail-in aligners rely on advanced knowledge and methods. The truth is quite the opposite: these trays use outdated techniques. In doing so, they often cause issues for their patients.
You see, a lot can go wrong when you make a dental impression yourself. There's a good chance you won't follow the steps correctly or that the method is inherently imprecise. In these cases, you could end up with aligners that don't fit well or at all.
They'll Likely Cost You More
Of course, it's bad enough that mail-in aligners are usually ineffective. What's worse, however, is that they could give you serious dental damage. Based on the situation, these mail-order trays could cause tooth loss, gum recession, and other ailments.
If you suffer these conditions, you'll pay more for correction than what in-office work would've cost. Adding insult to injury, you'll have to attend frequent dental visits anyway.
As you can see, mail-in clear aligners are dangerous to your mouth. For truly safe and effective orthodontics, visit your local dentist instead!
About the Author
Dr. Drew Beaty is an experienced dentist based in Federal Way, WA. Having earned his DDS from Northwestern University, his expertise extends to preventive, cosmetic, and restorative dental care. He and his team also offer emergency procedures and Invisalign clear aligners. As such, you can trust him to make your smile truly healthy and beautiful! Dr. Beaty currently practices at his self-titled clinic and is reachable on his website and by phone at (253)-839-6544.
Comments Off

on What are the Dangers of Mail-in Clear Aligners?
No Comments
No comments yet.
RSS feed for comments on this post.
Sorry, the comment form is closed at this time.