A Patient-Focused Promise for Your Dental Care
October 14, 2019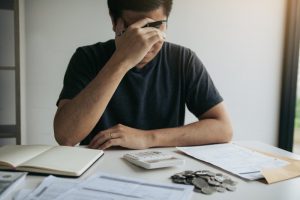 According to a new American Psychiatric Association poll, about 40 million American adults (18 percent of the population) have anxiety disorders. They also found that most Americans suffer from moderate to high levels of stress, due to factors like job stability, upcoming important tests, and financial situations. At the end of a busy day at work or after a stressful event, it's easy to believe that when you lay your head down to go to sleep, all of your worries will disappear. The problem is, they don't. Instead, they can manifest into bad habits that can ruin your oral health. Read on to learn about the connection between stress, anxiety, and the condition of your teeth and gums.
Stress in the United States
In 2010, the American Psychological Association administered a massive survey to find out just how much chronic stress and anxiety was impacting adults. They were surprised to find that these issues are actually a public health crisis, affecting a majority of the population. Mental illnesses connected to stress have been associated with increased risks of overall health problems such as heart disease, obesity, asthma, and even oral health issues.
Here are some statistics that they acquired by surveying countless people in America:
18.1 percent of adults have an anxiety disorder.
A third of children between the ages seven and 17 reported physical symptoms associated with stress.
49 percent of adults said job stability was their main source of stress.
Only 40 percent of Americans considered their health as good or excellent.
Connecting Stress to Your Oral Health
Stress and anxiety are significant factors in the majority of people's lives. Living with them is difficult, and many people unconsciously develop physical coping mechanisms to deal with them, such as nail-biting and teeth grinding while asleep. While these issues aren't always triggered by chronic stress, they are an incredibly common side-effect. Chewing on your nails and forcibly grinding your teeth against while you're sleeping can result in countless oral health problems, including:
Dental damage like chipped and cracked teeth.
Gingivitis and oral infections.
Worn-down enamel.
Bite problems.
Cavities and dental decay.
Without the proper protection or preventive measures being taken, these habits can have drastic negative impacts on your oral health, causing you to need costly dental treatments down the road.
Keeping Your Mouth Healthy
Adding developing oral health problems to your plate of worries isn't good for your anxiety or stress, which is why it's in your best interest to make sure your habits don't cause you more issues. Here are some tips to break stress-related habits and protect your teeth:
Trim your nails so you can't nibble on them.
Use clear or colored nail varnish.
Become aware of what causes you to grind your teeth or bite your nails.
Get a custom-crafted nightguard from your dentist to protect your mouth from unconscious grinding.
Discover the root of your stress and anxiety by seeking help.
Overcoming these habits won't just improve your overall health, it'll also make sure your smile remains healthy and happy for decades to come. The best way to prevent grinding and nail-biting from destroying your mouth is to visit your dentist to see what kinds of issues are developing because of your habits. From there, you'll be able to make a preventive plan to save your smile.
About the Author
Dr. Drew Beaty has over two decades of experience in dentistry and is passionate about creating positive transformations in his patients that improve their wellbeing. He has completed extensive training in sedation dentistry and finished all nine levels of postgraduate education at the Kois Center for Dental Excellence in Seattle. He also takes over 100 hours of continuing education courses each year so he can provide his patients with the absolute highest quality of care. For questions or to get a dental examination to learn how your stress is impacting the health of your teeth and gums, visit his website or call 253-839-6544.
Comments Off

on The Relationship Between Stress and Your Oral Health
No Comments
No comments yet.
RSS feed for comments on this post.
Sorry, the comment form is closed at this time.