A Patient-Focused Promise for Your Dental Care
May 3, 2022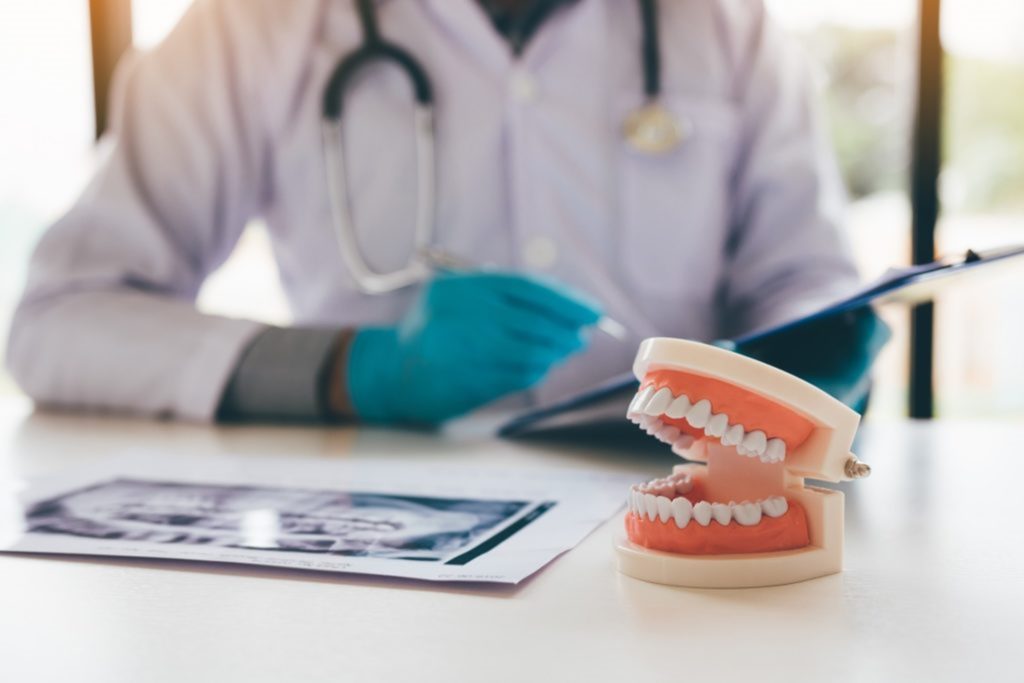 Dentures are a popular solution for those with missing teeth. Not only do they restore the gaps that are left by missing teeth, but they also fill out your face and help restore your ability to speak, bite, and chew more effectively. However, they don't fix things immediately—it's a gradual process that requires some time and preparation. If you're interested in receiving dentures to correct your compromised smile, here's what you need to know about the timeline for getting them, broken down into four primary steps.
Step #1: Initial Measurements
When it comes to high-quality dentures, there's a little bit of preparation necessary. Your dentist must first determine if there are any teeth that need to be extracted—if this is the case, these extraction sites can take several months to heal. However, if you don't need any teeth removed, your dentist can move more quickly and begin by taking impressions of the ridges of your mouth and measuring your bite. These initial measurements are crucial; they determine the correct fit of your custom-made dentures. They'll send this information to the lab where your dentures are being crafted, which can take some time (usually three or four visits)—but there's plenty to do in the meantime to get your mouth ready.
Step #2: Adjustment Process
While you're waiting for your dentures, you'll be given temporary ones to wear. These mockups serve a very important purpose; they are regularly and precisely adjusted to determine how your future dentures need to be fitted. Sometimes this takes multiple minor adjustments, but it's absolutely necessary. Once your permanent dentures arrive, your dentist will already know exactly how they need to fit inside your mouth and can ensure they're good to go.
Step #3: Placement of Dentures
Sometimes the adjustment process takes a while, and patients need immediate dentures, so they aren't without teeth for an extended period. These prosthetics are different than the temporary mockups used during the adjustment process and provide you with functional interim teeth while you're waiting for your permanent dentures. But once the adjustments have been made and your dentures have arrived, placing them is quick and straightforward. You might have to have them readjusted regularly, though.
Step #4: Aftercare
Once you've received your dentures, you aren't out of the woods yet. In addition to any necessary adjustments that need to be made, it's important to preserve and take care of your dentures. Ill-fitting dentures are problematic, but so is an unsanitary mouth! Ask your dentist for instructions and recommendations for keeping your dentures clean and functional.
Getting dentures can sometimes be a lengthy process, depending on your individual needs. But the amount of time and the level of care and preparation that goes into the process is part of why dentures are an effective solution that produces beautiful and effective results.
About the Author
Dr. Drew Beaty has over two decades of experience in the dental field and is honored to serve patients and families in the Federal Way area. Dr. Beaty received his dental doctorate from Northwestern University in Chicago and has completed all nine levels of postgraduate education at the prestigious Kois Center for Dental Excellence in Seattle. His practice is proud to offer many available services including both partial and full dentures! If you'd like to schedule an appointment with Dr. Beaty, you can contact his practice online or by phone: (253) 839-6544.
Comments Off

on What Is the Timeline for Getting Dentures?
No Comments
No comments yet.
RSS feed for comments on this post.
Sorry, the comment form is closed at this time.