A Patient-Focused Promise for Your Dental Care
October 3, 2022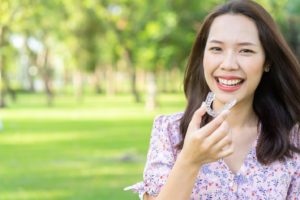 Invisalign is one of the hottest cosmetic treatment options available! These awesome aligners are able to correct crooked teeth in a discreet and convenient manner, and millions of patients have turned towards Invisalign in Federal Way to achieve their smile goals. However, many patients also want to reach the finish line as quickly as possible—but are there any feasible ways of safely speeding up the treatment process? Here are four tips from your dentist to help ensure that your aligners are able to do their job without delay.
1. Follow the 22-Hour Rule
The most important thing to remember when it comes to Invisalign is that your trays must be worn for 22 hours every day; otherwise, they won't work as intended! The only time they should be taken out is whenever you're eating or cleaning the trays, though this can often be done simultaneously. However, many patients forget to put their trays back in directly after eating—and those minutes and hours can quickly add up and lengthen your overall treatment! That said, adhering to the 22-hour rule will ensure that there aren't any unexpected delays.
2. Take Care of Your Trays
Theoretically, wearing your aligners most of the time should protect them from becoming lost or damaged; however, there are still opportunities when this can happen. This means it's a good idea to bring your Invisalign storage case with you everywhere! If your trays aren't being worn or cleaned, they should be safely stored inside of their case. Lost or damaged aligners will inevitably take time to replace, which results in a prolonged treatment process.
3. Keep Up with Your Progress Checks
You'll be expected to visit your provider throughout your treatment for brief progress checks. These visits are usually quick and straightforward, but they serve an important purpose as they help keep things right on track. If any minor adjustments need to be made to your aligners, this is when they'll be made. This visit also allows you the chance to mention any problems or abnormalities you might be experiencing.
4. Maintain Excellent Oral Hygiene
As with any sort of dental work, it's always in your best interest to practice excellent oral hygiene—poor oral health can lead to issues that complicate and stall out your Invisalign treatment. Be sure that you're keeping your teeth and aligners clean. It's also wise to avoid consuming excess sugar or acidic foods and beverages—your teeth can't shift correctly if they're decaying!
The Invisalign process takes time; your teeth won't magically shift overnight! However, by following these tips and doing the little things correctly, you can ensure that your trays are able to do their job at their expected pace and provide you with the smile of your dreams.
About the Author
Dr. Drew Beaty received his dental doctorate from Northwestern University in Chicago and has taken countless hours of continuing education in a wide range of fields. His practice in Federal Way is pleased to offer several available services including Invisalign. If you have any questions about Invisalign or would like to arrange a visit, you can contact Dr. Beaty through his practice's website or over the phone for assistance: (253) 839-6544.
Comments Off

on 4 Tips to Ensure a Speedy Invisalign Process
No Comments
No comments yet.
RSS feed for comments on this post.
Sorry, the comment form is closed at this time.