A Patient-Focused Promise for Your Dental Care
July 31, 2017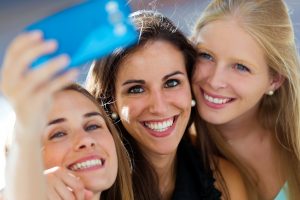 Do you feel like your life would be so much better if you could improve several of your smile's flaws? Undergoing multiple treatments to achieve your ideal bright, white, straight smile is too much of a commitment for most patient's schedules and pockets. Thankfully, Drew Beaty DDS Family & Cosmetic Dentistry offers next level dental care with porcelain veneers in Federal Way. Of course, one of our main goals is to help patients achieve optimal oral health, but we also strive to assist our patients in growing their overall confidence. In just a few appointments, you could have a totally new smile that you can't stop showing off!
Easy Smile Makeover or Simple Dental Procedure? It's the Same Thing!
Did you know that you can simply cover the flaws you have in your smile? No adjusting, shifting, or extracting must take place to get the look you want. Our veneers are high-quality dental porcelain that fit right over the front of your teeth to permanently mask your imperfections.
After examining your teeth, your cosmetic dentist, Dr. Drew Beaty, will consider your facial features to formulate the appropriate size and shape of your veneers. He does this to make sure your veneers match your face and jaw structure, creating the perfect smile that you've been dreaming of!
One of the best parts of getting porcelain veneers is that they are slightly translucent and faithfully mimic your natural tooth's color. Big bonus: they're are stain-resistant! If you have any of these flaws or a combination of them, you should consider getting a smile makeover in Federal Way with veneers:
Irreversible stains
Chipped teeth
Worn teeth
Crooked teeth
Misshapen teeth
Uneven spaces and gaps
Benefits of Porcelain Veneers
Yes, there are several types of cosmetic dentistry available to fix a flawed smile. But, what makes porcelain veneers different than most cosmetic dental procedures?
They're strong and long-lasting.
They have a natural-looking surface that camouflages your dental work amongst natural teeth.
Less tooth enamel must be removed than with other cosmetic procedures.
They're stain resistant.
Every veneer procedure is customized to each patient's needs.
Caring for Your Porcelain Veneers is Just as Important as Caring for Your Natural Teeth
Just like your natural smile, the teeth that have been restored with veneers still need you to gently care for them by brushing and flossing. Believe it or not, you can still develop cavities beneath and around your veneers. To keep your new and improved smile, you must maintain good oral health. Who knows, since you'll love your new smile so much, you may even look forward to your dental hygiene routine for a change!
Regular checkups and cleanings with Dr. Beaty are important. As tough as porcelain veneers are, they still need special attention from a dental professional to make sure they're maintaining stability and getting thoroughly cleaned. Contact our office today if you're considering getting porcelain veneers or if you need help maintaining your new smile. We'll be happy to help you improve your appearance and dental health!
Comments Off

on Porcelain Veneers in Federal Way Easily Correct Flawed Smiles
No Comments
No comments yet.
RSS feed for comments on this post.
Sorry, the comment form is closed at this time.