A Patient-Focused Promise for Your Dental Care
June 19, 2020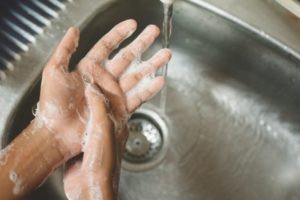 There are plenty of simple ways to greatly reduce your risk of contracting COVID-19. Some of these include staying home as much as you can and wearing a face mask when you do go out. Another easy prevention method is simply washing your hands on a regular basis. But just how often should you wash your hands? What is the right handwashing technique? A dentist in Federal Way has the answers to these questions and more down below.
How to Properly Wash Your Hands
The ideal handwashing routine has five steps:
Wet. Place your hands under clean running water.
Lather. Apply a generous amount of soap to the backs and insides of your hands and lather it up for at least 20 seconds. Make sure to get underneath your fingernails and jewelry.
Scrub. Rub your hands together and move your fingertips around both hands with a gentle pressure.
Rinse. Put your hands under the water to wash away the soap.
Dry. Disposable paper towels are best because germs don't linger on them like they do with cloth towels. Air dryers are also effective.
When Do You Need to Wash Your Hands?
Washing your hands frequently is important always, but especially during a pandemic. Here are some of the situations in which you should scrub your hands clean:
After you get back from a public outing like a grocery store run
Before leaving the restroom
After making physical contact of any kind with another person
Before and after caring for someone with a physical illness
Before and after treating a wound or cut
After coughing, sneezing, or blowing your nose
After taking out the trash
After putting on your shoes
After using a public computer, touching a public countertop or table, another person's phone, cash, etc.
What About Hand Sanitizer?
Sometimes you may be in one of the situations mentioned above yet have no access to a sink. In that case, it's perfectly fine to use an alcohol-based hand sanitizer to kill the majority of germs that are present on your hands. However, keep in mind that cleaning your hands with soap and water is always best. Apply hand sanitizer whenever you would wash your hands if soap and water aren't currently available to you.
Washing your hands is one of the best ways to remove germs that, if they enter your body, could wreak havoc. As long as you adhere to the techniques laid out in this post, you should be able to drastically reduce your risk of contracting sicknesses like COVID-19.
About the Author
Dr. Drew Beaty earned his Doctor of Dental Surgery degree from Northwestern University's dental school in Chicago. In the more than 20 years since then, he has annually taken over 100 hours of continuing education courses a year, which is four times the amount required by the Washington State Department of Health. Upon arriving at his office for an appointment, you'll be asked to wash your hands to reduce the risk of infection. To learn more about Dr. Beaty's dental safety protocol in Federal Way, visit his website or call 253-839-6544.
Comments Off

on How to Wash Your Hands to Reduce Your Risk of Catching COVID-19
No Comments
No comments yet.
RSS feed for comments on this post.
Sorry, the comment form is closed at this time.