A Patient-Focused Promise for Your Dental Care
November 6, 2022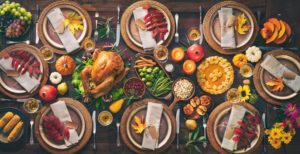 The weather has finally cooled off, the leaves have begun changing colors, and the holiday season is right around the corner! And with it comes lots of family time, lots of fun, and of course, lots of food! But if you have dentures in Federal Way, you might be wondering if there are any particular foods you should actively avoid! Here's more from your dentist about which holiday foods you should and shouldn't enjoy with dentures.
Which Holiday Foods Are Problematic for Dentures?
Even though dentures are durable, life-like, and very reliable, they're not invincible—and certain foods can compromise their integrity or loosen their fit! You should steer clear of these items when you're sitting down for your family meals this holiday season:
Eggnog (the cream, sugar, and alcohol are a recipe for tooth decay)
Caramel
Candy Canes
Tough meats
Hard nuts or chips
Popcorn
Carbonated and sugary drinks
Are There Any Denture-Friendly Foods?
Fortunately, there are many foods that shouldn't give your dentures any issues when it's time to eat this holiday season! Consider the following options:
Cooked vegetables
Soft sides like mashed potatoes and green bean casserole
Lean proteins like tofu and turkey, which also contains tooth-healthy phosphorus.
Cheese
Dinner rolls
Tips for Enjoying Your Favorite Holiday Meals with Dentures
Knowing what you should and shouldn't eat once you have dentures will be the difference between whether your solution last for a couple of years or many years. That said, you can still enjoy yourself during the holidays if you're careful! Other than sticking with the foods listed above and avoiding problematic items, you can do other things to ease the burden on your mouth. Cutting your food into smaller pieces will make it easier to chew, while also assisting with digestion. Steering clear of excessively hot drinks is also wise, as the high temperatures can potentially warp and disfigure your dentures. It's also advisable to keep your dentures clean by continuing to practice good oral hygiene—the holidays don't excuse you from taking care of your smile!
Your dentures can do so much for your smile and in turn, your quality of life—but it's important to know what foods are safe for them and which ones can harm them. That said, if you're ready to put your dentures first and have any questions about what else should be avoided this holiday season, don't hesitate to speak with your dentist.
About the Author
Dr. Drew Beaty attended dental school at Northwestern University in Chicago and has proudly served patients and families in the Federal Way, WA area for several years. His practice is pleased to offer a wide range of services including restorative options like dentures. If you have any questions or concerns about which foods you should avoid with dentures, or if you'd like to arrange a visit, feel free to contact the practice online or over the phone for assistance: (253) 839-6544.
Comments Off

on What Holiday Foods Should I Avoid with Dentures?
No Comments
No comments yet.
RSS feed for comments on this post.
Sorry, the comment form is closed at this time.