A Patient-Focused Promise for Your Dental Care
April 6, 2023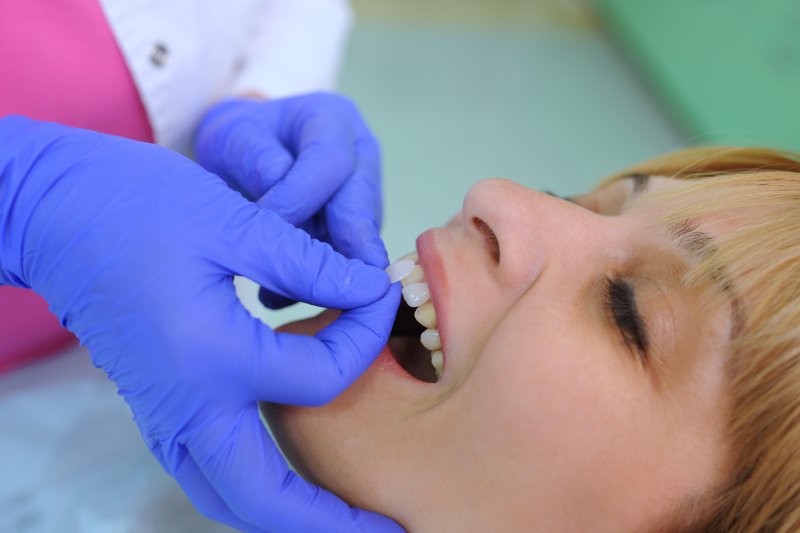 Your veneers can afford you a complete transformation of your smile in as little as two appointments, giving you the ability to undo years of damage incredibly quickly! So when you lose one, it's natural to feel a little panicked—you don't want to have to go back to how your smile looked before.
Thankfully, your dentist will be happy to help you. Here's what you should do if you lose a veneer.
Step 1: Set it Aside
Once your veneer falls off, the first thing you should try to do is to find it. Take care not to swallow or bite down on it if it's still in your mouth; you might even try swishing water around until it comes out of your mouth.
Once you get your veneer, set it aside somewhere safe. Keep it away from pets, and put it somewhere that you won't lose it.
Step 2: Call Your Dentist
Once you find your veneer, or if it's been lost forever, you should call your dentist about an emergency appointment. They'll schedule you to come in as quickly as possible and will give you important instructions for what to do in the meantime.
If it's after hours, you should call the front office and leave a detailed message describing what has happened. They'll get back to you as quickly as possible. Your dentist may also have an emergency after-hours number listed on their answering machine, which you can call if you're in significant discomfort.
Step 3: Wait For Your Appointment
Even in the case of an emergency appointment, you will probably have to wait for a few hours until a dentist can see you. If you want to stay comfortable until then, you should make good use of over-the-counter pain medicine.
If your teeth are feeling sensitive, you can always mush some dental wax over your teeth to protect them, then try and avoid anything excessively hot or cold that could cause that sensitivity.
Step 4: The Appointment
Your dentist will be able to make the final call about what to do with your veneer. They may just reattach the one you lost, or could order another set if the veneer has been worn down.
About Our Practice
Welcome to the practice of Drew Beaty, DDS! Everyone here is united by one goal: giving everybody high-quality dental care that will exceed their every expectation. We aren't interested in just rushing people around and giving them as little as possible—we'll guarantee that you can get the one-on-one attention that you deserve!
If you have any questions about taking care of your veneers, we can be reached at our website or by phone at (253) 839-6544.
Comments Off

on What to Do If You Lose Your Veneers
No Comments
No comments yet.
RSS feed for comments on this post.
Sorry, the comment form is closed at this time.