A Patient-Focused Promise for Your Dental Care
August 17, 2020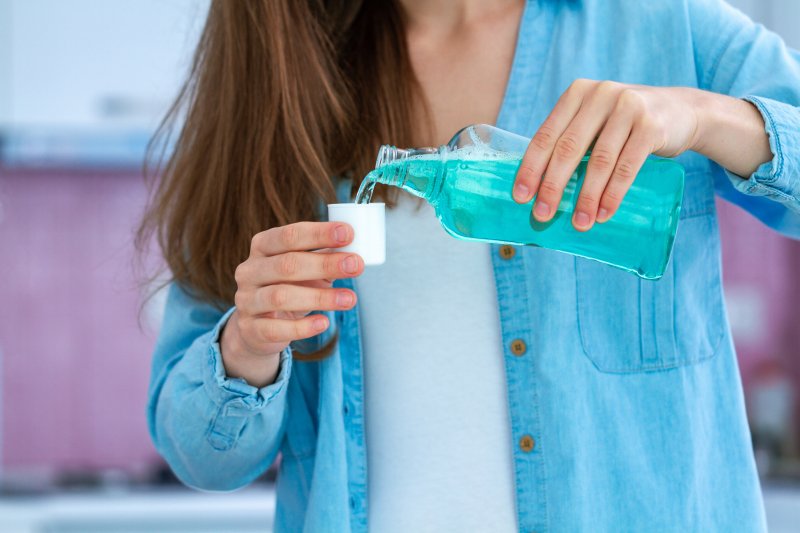 Since the start of the COVID-19 pandemic, our world has changed exponentially. Between social distancing guidelines, extensive sanitation practices, and face coverings, our daily routine has been completely re-designed in the name of infection control. While many of these safety and sanitation practices have been in place for over five months, the Centers for Disease Control and Prevention are continuing to add measures to make the transition out of quarantine safe. One of these procedures is asking patients to rinse with mouthwash before their dental appointment. If you have found yourself wondering why that is a part of dental safety during COVID-19, then your dentist in Federal Way is here to share the answer!
What the Science Says About the Power of Mouthwash
Despite the pandemic taking up a large part of 2020, extensive research is still underway on the intricacies of the novel virus. Although no specific strain of mouthwash has been tested against COVID-19, decades of research have proven its effectiveness against the harmful bacteria that causes plaque, bad breath, and gingivitis. While it may seem like a small measure, it is a simple precaution that adds an additional layer of protection to your visit. That way, you can get the dental care you need without compromising your peace of mind!
4 Tips for Using Mouthwash Properly
To ensure that you benefit from the maximum effectiveness of mouthwash, it is important to use it correctly. Therefore, always make sure to:
Use an anti-microbial product, which has significant bacteria-fighting properties.
Swish it in your mouth for 30-60 seconds.
Never dilute the mouthwash with water.
Let the liquid touch every surface of your mouth to successfully kill the bacteria.
4 Additional Safety Measures During COVID-19
Alone, rinsing with mouthwash before your appointment would not be enough to keep you safe. Therefore, your dental team is re-designing their daily operations to include additional sanitation measures in light of the current pandemic. So, at your next appointment, you can expect:
Social distancing guidelines (i.e., contactless greetings, virtual waiting rooms, etc.).
Extensive sanitation measures (i.e., hospital-grade hand sanitizing stations, deep cleaning each evening, etc.).
New appointment options (i.e., expanded patient appointments, family-friendly scheduling, etc.).
Additional personal protective equipment (i.e., face shields, disposable coats, etc.).
To keep you, other patients, and their staff safe, dentists are dedicating their time, skills, and resources to implementing new dental safety guidelines during the pandemic. So, when you are asked to rinse with mouthwash before your appointment, know it is just one of the many measures they are taking to keep you protected at your visit!
About the Author
After earning his doctorate at Northwestern University in Chicago, Dr. Drew Beaty completed all 9 levels of postgraduate education at the reputable Kois Center for Dental Excellence. For the past two decades, he has completed over 100 hours of continuing education annually and continues to provide his patients with the world-class care he is known for. If you would like additional information on dental safety protocols in Federal Way, visit his website or give him a call at 253-839-6544.
Comments Off

on Why Is My Dentist Asking Me to Rinse before My Appointment?
No Comments
No comments yet.
RSS feed for comments on this post.
Sorry, the comment form is closed at this time.