A Patient-Focused Promise for Your Dental Care
April 22, 2019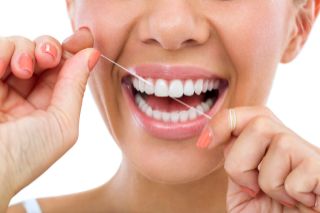 When it comes to bad breath, we've all been there at one time or another. Many people make it a point to brush thoroughly before social situations, but that's only half the battle! Flossing is the other part of the "fresh breath equation" that many people neglect. In fact, if you asked any dentist which habit their patients struggle with the most, nearly all of them would say flossing. Since flossing is crucial for a healthy smile and fresh breath, it's worth it to learn some tricks for making it easier. Keep reading to find out what causes bad breath, why flossing is necessary to improve it, and how to make it easier.
What Causes Bad Breath?
There are many potential reasons for bad breath, including gum disease, dry mouth, and medical conditions like acid reflux or sinus problems. And everyone knows that foods and beverages like garlic, onions, and coffee contribute to temporary odor issues.
But the most common and fundamental cause of bad breath is plaque and tartar, which is mainly made of odor-causing bacteria. If you don't effectively remove this bacteria each day, you're creating the perfect environment for bad breath.
Why Is Flossing So Necessary For Fresh Breath?
It goes without saying that brushing your teeth and tongue twice a day is important for a clean, healthy mouth and fresh breath.
But even if your brushing habits are perfect, your toothbrush bristles can only reach about 2/3 of the total surface area of your teeth. That leaves 1/3 of the total plaque and bacteria behind, which can only be removed with floss.
How Can You Improve Your Flossing Habits?
When you're starting a healthy habit, it's helpful to begin with small, attainable goals. For example, if you currently don't floss at all, aim to floss just 3-4 days a week at first. Once you've established that habit, it will be easier to do it every day.
Also, if you find that you're too tired at night to floss, try doing it earlier in the day when you have more energy, like right after dinner or even lunch. Some people even find it easier to floss their bottom teeth in the morning and top teeth at night.
There are also tools such as floss picks that can make a big difference, so experiment to find what works best. It's really just a matter of finding the right tricks to make it easy and convenient.
Finally, since even great brushing and flossing can't always remove plaque and tartar under the gumline, be sure to have regular checkups and cleanings as well.
With these tips, you'll be well on your way to fresh breath and a healthier smile too!
About the Author
Dr. Drew Beaty is an award-winning general, cosmetic and restorative dentist who is dedicated to helping his patients achieve great oral health and self-confidence. He and his staff also make it a priority to educate their patients on how to prevent and treat any dental problem, including bad breath. If you have questions about any aspect of your oral health, he can be reached via his website.
Comments Off

on Worried About Bad Breath? A Dentist Explains Why Flossing So Important
No Comments
No comments yet.
RSS feed for comments on this post.
Sorry, the comment form is closed at this time.