A Patient-Focused Promise for Your Dental Care
March 20, 2018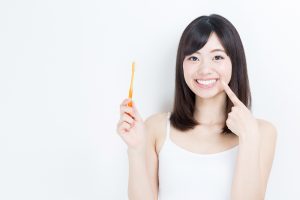 When is the last time you got a new toothbrush? If you can't remember, it's time to get a new one. The American Dental Association recommends you replace your toothbrush at least every four months. When you use the same toothbrush for a long time, it ceases to be effective at removing plaque buildup from teeth, and they may have a buildup of bacteria that can increase your risk for oral health concerns. In this post, we'll discuss when you need to change out your toothbrush, what types of toothbrushes are best for you, and how to keep your brush functioning properly. Preventive dentistry is key to maintaining healthy smiles, and using the right toothbrush is an essential part of every oral hygiene routine.

When to Replace Your Toothbrush
A good rule of thumbs is to replace your toothbrush three to four times each year. That includes manual toothbrushes and the heads of electric brushes. You may also need to replace your toothbrush for the following reasons:
Following an illness
If the toothbrush bristles start to feel hard or bent out of shape
You notice toothbrush bristles are falling out
Your toothbrush looks discolored or dirty
The toothbrush has a strange odor
What Type of Toothbrush Should I Use?
Many patients want to know whether an electric or a manual toothbrush is right for them. The truth is, with proper technique, both types of toothbrushes are effective. It is important that you use soft bristled manual toothbrushes or electric toothbrush heads to avoid unnecessary damage to soft tissue.
Tooth Brushing Tips
As long as you brush your teeth for two minutes at a time twice a day, your smile should be pretty well cared for, but there are some changes you can make to improve your tooth brushing routine, including:
Brush teeth with the toothbrush bristles at a 45 degree angle towards the gums
Brush systematically not randomly to ensure every tooth is cleaned
Brush every surface of teeth front, back, and biting surfaces
Brush 30 minutes after meals to remove acidic foods and plaques
Meet Dr. Beaty
At the Federal Way dentistry practice of Drew Beaty, DDS, we are dedicated to helping patients achieve and maintain the optimal level of oral health with preventive dentistry services, including at-home oral hygiene advice and guidance. Dr. Beaty has years of experience and advanced education that allows him to offer comprehensive dental care for every patient. If you want to learn more or schedule an appointment with us in our state-of-the-art Federal Way dentistry practice, give us a call today.
Comments Off

on How Often Should I Replace my Toothbrush?
No Comments
No comments yet.
RSS feed for comments on this post.
Sorry, the comment form is closed at this time.